Hello Kylie,
I can't help but notice you're in the headlines and all over my twitter feed once again. You're everywhere and I'm sure that's just how you like it to be. But I've had a growing problem with it and now feels like the right time to address it. You see, yesterday I woke up to one of your magazine interviews and saw a rather ridiculous quote. You claimed that you started a wig trend, all by your own volition. You don't know how wrong you are. Not only have women of color been wearing wigs for centuries, so have cancer patients and survivors, those struggling with Trichotillomania,  and victims of Apolecia. Women of color started this trend long before you were born, trying different styles, colors, and lengths for Sunday Services and special occasions. Need reaffirmation? Just look to women like Rihanna, Beyonce, Nicki Minaj, Tyra Banks and many more. Those women brought wearing wigs onto runways, stages, and magazine covers all while you were probably still being potty trained. You didn't start anything new, in fact, you're just taking credit for things women of color unofficially trademarked in this industry long ago. It's wrong. You don't deserve credit just because you put on a blonde wig and tried to replicate your sister's look even further. Why can't you just give credit where credit is due and stop acting like everything you do is some new innovation that the masses have never seen before?
While we're on the subject, why don't we address the time you took a picture of yourself with cornrows and captioned it with "White girls do it better?"  You deleted the caption almost immediately after posting it and changed it to something new but not before a few quick users caught it.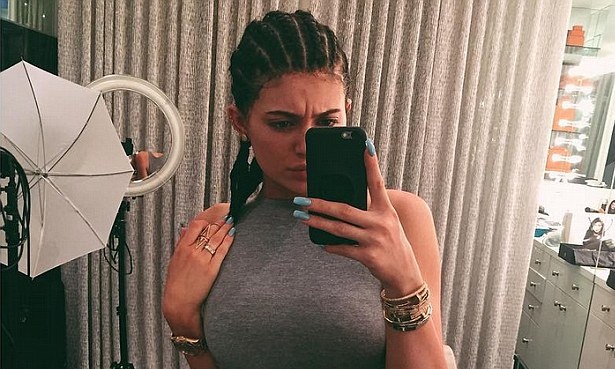 Kylie, you may think that white girls do it better (I'm not sure why anyone would think that??) but black girls have definitely been doing it longer. Significantly longer. Actually, did you know a majority of black girls can't wear the hairstyles of their culture without schools dress coding them, suspending them, or even expelling them? In fact, there were many cases of that in 2015 and even a few in 2016. Or that some women get fired or publicly humiliated at work for wearing cultural braids or traditional African American hairstyles? They face criticism, racism and oppression on a daily basis just for sticking to their culture and that's a type of pain you will never experience. You do not do it better, you just have it easier because you're not a WOC and instead get praised for breaking already broken down barriers.
Let's also talk about your lips, so infamously known for being big and voluptuous. Earlier on, you denied having injections to make them bigger and just said that you used makeup to enhance them. Later, you'd admitted to having cosmetic surgery done on your lips. The issue many take up with this is that you act like you're the first celebrity to have big lips and the only person who's capitalized off of it (newsflash, Angelina Jolie has been doing that for years!) I do hope you realize that African Americans and latinx, both male and female, have naturally pouty lips. I've heard so many stories from friends and online users who were actually being bullied for their natural lips,  for their natural shape and size. You can sell your lips kits and expertly shape your lips to be larger all you want, but that's never going to be who you really are. And you're never going to understand what it was like to grow up and be bullied over it, like so many other black or latina girls were. You're never going to know how lousy it feels to watch the same features you were teased and taunted over become glamorized in the media just because a white woman is posing with them.
You may think you're doing some good, Kylie. And maybe you actually could be. But the biggest problem is that you refuse to acknowledge the culture whose features you're stealing from. You don't seem to realize or care that you're taking credit for things that have belonged to other people for years. The same features that have denied people of color their equal rights. The same features that mainstream television networks go out of their way to avoid while casting; the same features that are used to make black people feel like they need to change themselves. You don't care about the abuse and struggles these people have faced as long as you're racking up those Instagram likes.
Maybe you should think about this the next time you decide to exploit other people's cultures for your own personal benefit.
Sincerely,
The Rest of The World!
Comments
comments