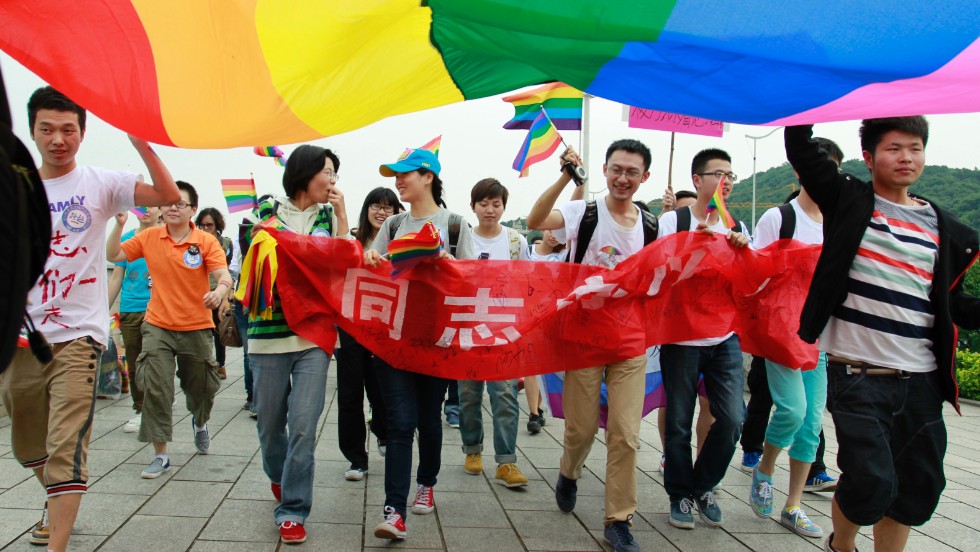 China has slowly picked up in recent years on raising the awareness of the LGBT people. International pageant Mr Gay World strided out for the first time in Shanghai recently with restless robust, shipshape men taking off their clothes on the catwalk in the name of the homosexual community and lots of winners who were bold enough to accept their accolades as well as to share their thought of LGBT on stage. Before that, there was Chinese history referencing to gay men- it is said that Emperor Ai from the Han Dynasty (206 BC to AD 220) teared off his sleeve pinned by his deep-sleep male lover in order not to wake him up. Homosexuality is no longer on the blacklist of mental illnesses since 2001 and in 2009, Shanghai was the first city in China which was able to hold annual Pride celebration, "gay-straight conversion" clinics in Beijing cities were overruled by court in 2014 and less insulting media coverage of LGBT community than it was five years ago…etc. However, the coverage of LGBT issues is still hitting snags in China in terms of marriage, media as well as treatments in hospitals.
Unable to get married in China is one predicament for gay people. Back in the April of 2016, 27-year-old Sun Wenlin and his partner Hu Mingliang who is 37 got rejected by Civil Affairs Bureau in Changsha for their request to have same-sex marriage. Their second attempt to fight for their right to wed failed as well- the court dismissed the case shortly after 3 hours and provided inadequate reasoning to close the case. The freedom and right for homosexual couples to be recognized legally will require long and continuous years of appeal to help spread their opinions in a conservative society like China, which has tight measures on the cultural crackdown of so-called vulgar and indecent content such as homosexuality, bisexuality or transgender relationships when heterosexuality is deeply rooted as the norm since the existence of human beings. Although the case is a milestone in raising the awareness of the Chinese society towards the LGBT community.
LGBT issues can hardly be covered in Chinese media. China has censored the depiction of all kinds of sexuality (the authorities called them the dark side of the society) except heterosexuality on screen. Recently, the authorities pulled a high-rated sitcom, Addicted from being circulated on Chinese websites as gay romance is the theme of the drama. The government specified that Addicted disobeyed the protocol of "preternatural sexual relationships and behaviors". Another LGBT-themed documentary called Mama Rainbow in 2012 which portrays 6 gay and lesbian characters had been eliminated from online as well. Besides, getting editors to cover LGBT issues is still a challenge, even though LGBT-rights training for journalists has expanded all over the country. There were journalists that try to divulge a LGBT story for over a year to get it published finally. LGBT organizations and people from the media work field are making an effort to let Chinese people have more exposure to LGBT issues, but the government and doesn't quite show that side of itself.
China's abolition of classifying homosexuality as a mental illness in 1997 does not guarantee that the sexual orientation is widely accepted. Since the country has no anti-discrimination law, some Chinese hospitals (the so-called "gay-straight conversion) still consider homosexuality (or any other kinds) as a mental health problem. When patients come to those hospitals for mental counselling, psychiatrists often prescribe them with illegal treatments which correct their sexuality into a straight one- electric shock on scalp (half of your head will turn numb), cold showers, working out that inhibit the secretion of gay hormone instead of giving appropriate verbal therapy. There is no scientific evidence that sexuality can be altered by the methods above. Even if the methods work, what is the point of curing your natural sexual orientation into an unnatural one ?
Even though China has become more understanding towards the LGBT community, sexuality other than heterosexuality is considered as unmentionable in the country because of the deeply rooted modern Chinese culture and policies. During the Cultural Revolution from the 1960s to the 1970s, Mao Zedong' leadership leaded to homosexuality being buried because they were associated with Western depravity. Mainstream Chinese society became averse towards any sexuality that deviated from the norm. Objects related to any non traditional sexuality (heterosexuality) or cross-dressing were wiped out on the whole. Homosexuals at that time were dehumanized and publicly disgraced- they were assaulted by police, captivated and forced to wear banner with words to show that they were ashamed with their sexual orientation. Through cruel treatments to homosexuals rarely exist today, the place they can truly express themselves is only limited to Gay Bars (police do still close them down sporadically) or gay websites. LGBT issues also contradicts with the long-held belief in the country that children must carry on the family lineage by marriage and bearing the next generation, being unable to achieve these things is the worst kind of unfilial behavior. Parents in China put high expectation on their children to wed a good husband or wife. In order not to disappoint, Chinese children refused to come out to their parents who cannot accept their kids not getting married. The old one-child policy in China further pushes parents to pressurize their sons and daughters to get married as soon as possible so that they can have grand kids. It is explainable that approximately 80% of gays and lesbians (or people with other sexuality) will marry partners of opposite sex so as to erect an illusion of having a married life and relieve their parents' worries, according to Zhang Beichuan, a professor on homosexuality at Qingdao University.
However, some homosexuals in China do not entirely surrender to their parents' expectation on their marriage. Instead, they join hands with opposite sexes who are homosexual consensually to build up a fake marriage while carrying on with their secret gay lifestyle- the husband or wife can be just someone they met on Tinder. When their parents leave, each of them can get back to their own life again. Walls may have ears, but not their parents, siblings, aunts, uncles or cousins. In fact, there is a yoga studio in Shanghai catered to gay men or lesbian women to look for fake partners. The drawback is that they have to go through such long distance, but what other solutions can save your ass from marrying an opposite sex you have no interest in?
The irony is that ancient China tells the opposite view on homosexuality. It was not only seen as a normal part of life at that time but was hugely promoted as guiltless. The earliest document mentioning homosexuality titled "Poetical Essay on the Supreme joy (sex)" appeared in the Tang Dynasty, and the description was rather astonishingly graphic and erotic. There are chapters on male lovers having sex in temples and sex between peasants. In the Han Dynasty, Emperor Ai kept a record of all his male lovers. In the Qing Dynasty, there were emperors relished having sex with Beijing Opera male actors and sought pleasure in male brothels which almost outgrew female brothels. Even some Chinese philosophies such as Confucianism, Buddhism and Taoism focused so little on judging sexual orientation and regarded the act of homosexual sex as "neutral" and "harmless". Unlike today, homosexuality was an entertainment among men who had a family with children rather than an identity.
China's changeover from an open-minded country being tolerant to homosexuals (mostly gays) to a prohibitive one is as short as the blink of an eye. The swing back to the days of ancient China is highly unlikely, even though the Confucian notions of continuing the family line is slowly fading, the head of the LGBT community has finally been shown slightly above the water, there are no agitators such as The Westboro Baptist Church that bashed LGBT people, one thing we can be assertive is that the LGBT community cannot fully integrate into the Chinese society fleetly.