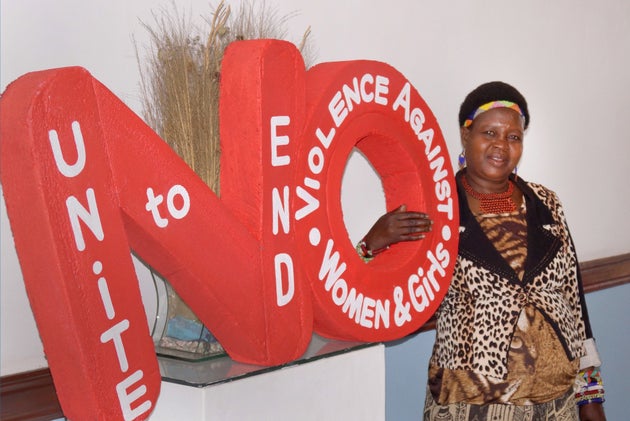 In her springtime of life as a sweet-tempered Malawian junior to twelve siblings, originating amongst an orthodox parliament within the Dedza District environing Lake Malawi—which is home to Malawi, Tanzania, and Mozambique—Theresa Kachindamoto is a paradox of formidable tenderheartedness; a personified oxymoron.
To illustrate, acclaimed news resource, Al Jazeera, chronicled Kachindamoto as a, "—mild-mannered woman who zips around a farmhouse packed with knick-knacks and insists her guests eat a meal before any introductions, [presenting] a character at odds with her fearsome reputation of being Malawi's top marriage terminator."
Prior to her societal distinction, however, she was employed as a secretary at a university residing within Zomba, a district of Southern Malawi, Africa.  Laboring for twenty-seven years with the sole aspiration of nourishing her five sons and spouse, Kachindamoto had not once daydreamed of presiding as senior chief to her fatherland, Monkey Bay, to approximately 900,000 inhabitants.  Nevertheless, within the year of 2003, she presumed office "whether she liked it or not" because she was reportedly "good with people."
As a result, "Kachindamoto duly donned the traditional beads, red robes, and a leopard skin headband, and started touring the rows of mud-walled, grass-thatched homes to meet her people."
Following her investigations of the status of her commonality, it was not long before she unearthed her newfound assignment: the previously mentioned moral obligation to annul the nuptials of children throughout Malawi.
"She was shocked when she saw girls as young as [twelve] with babies and teenaged husbands and was soon ordering the people to give up their ways."
In 2012, the United Nations surveyed the territory of Malawi, their analysis determining that girls wed before eighteen surpassed half of the population.  On a comprehensive scale, Malawi ranked eighth out of twenty countries in regards to the number of child marriages globally.
With reference to the Human Development Index (HDI), Malawi is a recognized a country of tremendous poverty, listing at 160th out of 182 nations of the uttermost impoverished regions.
Because of financial crises within individual households—chiefly in rural sectors—parents to the "brides-to-be" will be in desperation to marry their daughters with the hopefulness of diminishing their pennilessness.
Emilida Misomali, a member of a specialized mothers' guild established in the village of Chimoya, dwelling within the Dezda district, expressed that, "Most of them say, 'It's better that she gets married. We can't afford to keep her […] she will make us poorer.'"
Associations like that of Misomali's oftentimes caution tape around the longstanding complications of premature marriage and childbirth.  Unfortunately, "No matter the rationale, whether better health, education or wellbeing, Misomali says 'stubborn parents' won't stop giving away their children."
Moreover, Misomali recounted her experiences amongst the snowballing epidemic: "We see a lot of complications like cesarean births and girls cut as their bodies are too small to give birth."
In addition to community retaliation, which has inhibited authorities on the outskirts of Kachindamoto's jurisdiction from intervening, there is a widespread advocacy for "kusasa fumbi," which translates to "cleansing."  This purification alludes to sexual initiation encampments, where females as youthful as seven are recruited and, "—taught 'how to please men' by performing titillating dances and sex acts. Some 'graduate' only by having sex with the teacher. Others return home untouched, only to be preyed on by a local 'hyena'—men hired by parents to take their girls' virginity, or by prospective husbands to impregnate them."
Not only are the campsites sexually abusive to minors, but they are inherent breeding grounds for HIV/AIDS, which infects approximately ten percent of the Malawi populace.  These contaminations will thus subject the child participants to fleeting lifetimes of medical, emotional, and mental nightmares—all agonies they never consented to.
Gratefully, under Kachindamoto's regime, she has condemned the traditional practices, vilifying their negative influences.  She declared straightforwardly, "I said to the chiefs that this must stop, or I will dismiss them."
As for the unlawful engagements, Kachindamoto asserted to her fellow politicians, "Whether you like it or not, I want these marriages to be terminated."
In 2015, "Malawi's parliament passed a law forbidding marriage before the age of 18. But under customary law of the traditional authorities, and the constitution, Malawian children can still marry with parental consent."
Notwithstanding the unrelenting road blocks, Kachindamoto is faithful to her impassioned responsibility. As of April of 2016, she had annulled an astonishing 850 child unions of girl-wives and boy-fathers, with a supplementary intent of enrolling them back into education.
In an interview with the Nyasa Times newspaper, she pronounced, "I don't want youthful marriages, they must go to school. We have now set our own laws to govern everybody within my area when it comes to marriages and will leave no sacred cow. […] No child should be found loitering at home; gardening or doing any household chores during school time. No village head, GVH, or church clergy to officiate marriage before scrutinizing the birth dates of the couple."
Furthermore, she professed to the United Nations Women that when she discusses the topic with mothers and fathers with the objective of enlightening them, she "tells them," "—if you educate your girls[,] you will have everything in the future."
However, because the greater part of her community was unwavering in their patriotism to time-honored principles, Kachindamoto ventured along the boulevard to statewide change via the law.
To summarize, "She got her [fifty] sub-chiefs to sign an agreement to abolish early marriage under customary law, and annul any existing unions in her area of authority. […] When she learned that child marriages were still taking place in some areas, she fired four male chiefs responsible for these areas. They returned months later to tell her that all marriages had been undone. After sending people to verify this, she hired the chiefs back. […] She then drew community members, the clergy, local committees and charities together to pass a bylaw that banned early marriage under the civil law."
Amongst the menacing remarks against her life is the criticisms that is a result of her motherhood to exclusively males, it was not righteous of her to rebuke the parenting of others' regarding their daughters, Kachindamoto has persevered.
"'I don't care, I don't mind. I've said whatever, we can talk, but these girls will go back to school,' she says."
Al Jazeera detailed that, "Through a network of 'secret mothers and secret fathers' in the villages, Kachindamoto checks that parents aren't pulling girls out of school. She sends in outside allies to keep them there."
She has additionally called upon students from the urban vicinities with the ambition of utilizing them as role models to encourage the rural children to strive for the jewel in the crown.
"Last year, [Kachindamoto sent] Malawi's female MPs to rural schools. The girls in the community suddenly became eager to learn English—the language spoken in parliament."
Another personal contribution of her's is journeying the children into the township to witness the radiantly illuminated array of lights, leaving them awestruck and apart from their conventional village farmlands.
"Kachindamoto is now asking parliament to increase the minimum age of marriage from [eighteen] to [twenty-one] in an effort to break a cycle of rural poverty, which in recent years, has been exacerbated by floods and droughts."
Girls Not Brides has publicized that, "Each year, [fifteen] million girls are married before the age of [eighteen].  That [is twenty-eight] girls every minute.  [One] every [two] seconds."
However, with Theresa Kachindamoto divulging that she will be a "chief until she dies," perhaps there is authentic promise that freedom will ring for the imprisoned youth worldwide.
If you are interested in aiding Girls Not Brides to end child marriages/brides, visit their website.
Heart
Haha
Love
Wow
Yay
Sad
Poop
Angry