A gunman opened fire at Marjory Stonemason Douglas High School in Parkland, Fl. this afternoon. The suspected has since been arrested and placed in custody by Broward Police. There have been at least 14 victims reported, and the superintendent of Broward County has confirmed that there are some fatalities.
The shooting started around 2:30 p.m. ET. Students and staff were about to be dismissed when they heard gunshots and immediately went on lockdown. One student, Justin Lewis, reports that the school had a fire drill earlier in the morning and believed that when the school went on lockdown, it was just another one. He described the teachers as frantic and said there was a police officer "with a big weapon and bullet proof vest." That is when Lewis decided to jump a fence, run to a Walmart, and call his mom to pick him up.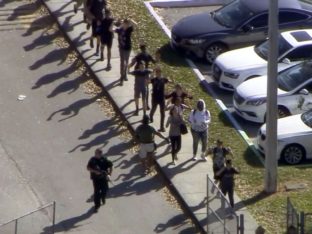 Another student, Nicole Baltzer, revealed that she was in trigonometry class when the second fire alarm of the day went off. She said that she heard about 6 "very close" gunshots. Baltzer's step-sister is also in the school, in a different classroom.
This is the 18th school shooting in 2018 alone, and we are only mid-way through the second month. People are enraged that action hasn't already been taken to prevent tragedies like this from happening. People are calling for reform and stricter gun laws to prevent these types of incidents.
The gunman has been identified as 19-year-old Nikolas Cruz. Cruz was a former student at Stoneman Douglas High School. Students were not surprised when they discovered that he was the suspect. He was seen as a threat on campus and wasn't allowed to carry a backpack with him while he attended the school. Cruz's instagram feed is filled with pictures of him carrying guns, knives and carrying a pack of ammo. When he attended the school, kids joked that he would be the one to shoot up the school.
Photo: Joel Auerbach
Heart
Haha
Love
Wow
Yay
Sad
Poop
Angry