Viola Desmond will be the first Black person on a Canadian dollar bill, breaking a chain of notoriously celebrating only a select few through the bills. Her portrait will be stamped across the Canadian $10 bill. For the first time, the face will be vertical.
International Women's Day in Canada took off as the new $10 bill was unveiled on Thursday, March 8, by Finance Minister Bill Morneau and Bank of Canada governor Stephen Poloz, during a ceremony at the Halifax Central Library. Desmond's sister, Wanda Robson, formally unveiled the new bill by pulling a black cloth off a large replica of the bill.
[caption id="attachment_127604" align="alignnone" width="331"]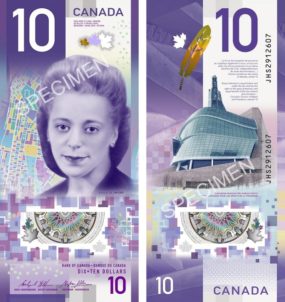 The new Canadian $10 bill. Source:
CBC
[/caption]
Of the new bill, Robson said, "I say thank you, thank you, thank you. Our family will go down in history — in history, imagine that."
"I want to start by saying that you need to know that this note is not yet in circulation until the end of the year, but Wanda is keeping hers… It tells you about the balance of power in this country," Morneau said.
Executive director of the Black Cultural Centre for Nova Scotia, Russell Grosse, said, "It's a long-awaited sense of belonging for the African-Canadian community… The launch of the bill sends people of African descent the message that Canada is finally accepting us. We belong."
On the new bill there is also an image of the Canadian Museum of Human Rights and a feather to symbolize reconciliation with the Indigenous Peoples of Canada.
While this occasion is marked with many firsts — the first Black person to be featured on a Canadian dollar bill, the first non-royal woman on a regularly circulating bill, the first vertical bill — it is important to look at the source of this trailblazing, Viola Desmond. Desmond was a civil rights activist. Her story is one many Canadians are familiar with, as it is monumental for the rights of Black Canadians.
On November 8, 1946, Desmond stopped at the Roseland Theatre in Nova Scotia. She was on her way to a business meeting in Sydney, Nova Scotia when her car broke down in a small community called New Glasgow. The car repair would take quite a bit of time, so Desmond booked a hotel and went to see a movie at the Roseland Theatre to pass the time by faster. Desmond ordered a ticket for the main floor, but received a balcony ticket instead. Desmond walked into the main floor but was stopped by the ticket-taker, as her seat was meant for the balcony. Thinking a mistake had been made, Desmond went back to the ticket-seller. The ticket-seller confirmed that Desmond did not get the main floor ticket as that was reserved for white people, saying, "I'm sorry but I'm not permitted to sell downstairs tickets to you people."
Desmond went to main floor regardless, determined to watch the movie from the seat she had initially ordered a ticket for.
Henry MacNeil, the manager, confronted Desmond. He told her the theatre could "refuse admission to any objectionable person." Desmond replied that it was not a refusal of admission to the theatre that was the problem — she had a ticket, after all — it was just not the ticket she wanted. She offered to pay the cost differences for a main floor ticket, but this was not accepted. She would let go of her seat. A police officer was called and Desmond was physically dragged out of the theatre, as her knee and hips were injured. She was left in a jail cell overnight. She had to pay a fine of $26 and was convicted of "defrauding the province's one-penny tax" in spite of personally offering to pay the difference in price between the two floors.
Her community did not find this acceptable and put up a fight. The Nova Scotia Association for the Advancement of Coloured People raised money to help Desmond fight her conviction. Carrie Best, a Black Canadian journalist who founded the province's second Black-owned and operated newspaper, The Clarion, followed the case, which was usually on the front page of the newspaper. Best herself had a similar experience at the Roseland Theatre five years earlier, which ended in an unsuccessful civil suit.
Viola Desmond is often seen as the Canadian Rosa Parks, another strong, dedicated, Black woman determined in obtaining her fundamental rights through the refusal of being pushed away, although Desmond's incident occurred nine years before Park's. To this day, Desmond's story is still taught in classrooms all over Canada, her story a legacy that will not cease to be forgotten.
Although she praised the image of her sister, Robson adds,
"She was honest until it hurt. That's who she was. That's how she got where she was, by her persistence."
The Bank of Canada says Desmond's case was the first legal challenge against racial segregation by a Black Canadian woman. Partly due to the publicity that came from this case, racial segregation legally ended in Nova Scotia by 1954.
Desmond's case is one that will remain ingrained into Canadian history, in part as remembrance of the sufferances endured by Black Canadians and as reminder of the strength of Black Canadians like Desmond. Her face stamped across a regularly circulating $10 bill will be a perpetual story, reminding Canadians of the struggles and strengths of Black Canadians, whilst celebrating the force of Desmond's denial to comply with segregation.
The new bill is to be in circulation by late 2018 and will institute a lifetime of acknowledgement and celebration.
Photo: BISB Mag
Comments
comments