Unarmed 22-year-old Stephon Clark, was fatally shot on March 18 in his grandmother's backyard. The two officers who killed him were responding to a call regarding someone breaking into cars. Wearing a black hoodie and dark pants, Clark was seen as a threat by the Sacramento cops who arrived at the scene. Clark was struck by 8 bullets after police mistook a cellphone in his hand for a weapon.
The wrongful death has sparked a lot of outrage and several protests have been held across the nation as a result. The NBA team, Sacrament Kings, have since partnered with the Build. Black. Coalition and the Black Lives Matter movement in order to transform black communities.
However, since the killing, some of Clark's past tweets have resurfaced and are causing great controversy. His tweets are very distasteful and show hate towards black women, specifically dark-skinned women.
[caption id="attachment_130530" align="aligncenter" width="291"]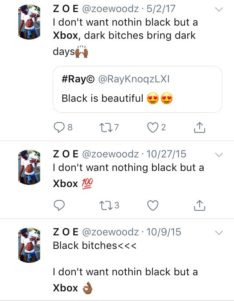 https://nypost.com/2018/03/29/cop-hit-in-the-face-with-glass-bottle-at-stephon-clark-protest/[/caption]
Because of his tweets, a lot of people have lost sympathy for him. Black women, in particular, are having a difficult time with how to feel now. They've loss remorse because of his blatant disrespect towards them.
No one is saying that his death is justified because it's not, but this time, black women can sit this fight out. It is okay for black women to not want to fight for justice on his behalf and on the behalf of other black men like Clark. It is only right to believe that he wouldn't have done the same for them. He was disrespectful and targeted black women with his tweets. His tweets clearly showcase his disgust toward black women, although he was a dark-skinned black male himself.
Since childhood, black women have been raised and conditioned to sacrifice for black men, whether it be our father, grandfather, brother, or uncle. We've had to lose some of ourselves for the benefit of the men of our race. Black women don't always get the same in return though. Black women, one too many times, have had to deal with misogynoir, not only from people of other races but from the men who are supposed to stand by their side and support them.
Yes, black women should fight for their men, but not if it means losing themselves and putting their mental health at risk along the way.
[caption id="attachment_130706" align="alignright" width="470"]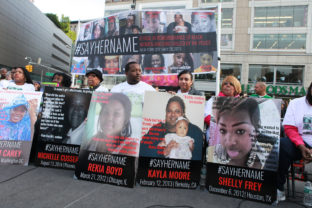 http://www.aapf.org/sayhername/[/caption]
Black women continuously fight for black men who would not fight for them. Black women have to suffer being hurt and betrayed by their own. Black men did not stand up and show their outrage for domestic violence against black women when former NFL player Ray Rice beat and dragged his then black fiancee out of an elevator. Black men do not criticize and chastise people when they belittle and demean black women. Black men did not declare that the lives of black women and girls matter too, when a report showed that in 2013 black women and girls "made up more than 53% of all women stopped by the New York City police".
When Tanisha Anderson, Rekia Boyd, Kayla Moore, and Shelly Fey were killed by police, black men were not at the forefront of the #SayHerName campaign. The most popular police brutality cases are of black men even though hundreds of black women also die at the hands of law enforcement. "The experiences black women have with police have been largely excluded". The stories of black women aren't being told. Yes, there were protests for Sandra Bland, but what about the rest. Where was the effort being made to tell the story of Charleena Lyles, a 30-year-old pregnant black woman who had mental health issues or Shantel Davis, a 23-year-old who was unarmed yet shot dead by a Brooklyn cop.
Black women are always in the corner of black men, but who's in the corner of the black woman?
Yes, Stephon Clark's killing was unjustified. Yes, something needs to be done so that black people aren't constantly killed by police officers. But no, black women don't have to fight a battle for someone who wouldn't do the same for them. Black women are always helping others without being told. Why can't black men do the same in this case? Black men never "feel the need to fight for anything that affects black women specifically". Black women are not the pack mule for black men. Black women should not have to always battle for black men and carry the weight of all their problems. It's time that others help black women carry the load.
Image credit: https://www.hotnewhiphop.com/nurse-fired-for-saying-stephon-clark-deserved-to-die-raises-over-s22k-for-bills-news.47143.html
Comments
comments