More than six months after a gunman killed 58 people and injured almost a thousand more, victims are just beginning to see disbursements of a victim fund that collected over $31 million.
The Las Vegas Victims Fund was a collection of $31,470,794 that was divided up among 532 applicants. Victims received money based on the type of injury they suffered and how long they spent in the hospital. In the top tier, families of the 58 deceased victims, as well as 10 individuals who suffered brain damage or permanent paralysis, received $275,000 each. In the middle tier, those who spent anywhere from one day to twenty-four or more days in the hospital received payments ranging from $17,500 to $200,000. In the bottom tier, those who spent less than 24 hours in the emergency room or sought a doctor within 10 days of the massacre received $8,500 each.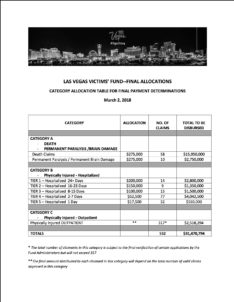 On April 11, most applicants received their approval notices and were able to receive their disbursements within the next day via direct deposit. Though many who had received chunks of the money expressed gratitude, survivors who didn't benefit from the victim fund posed reasonable concerns.
One survivor, Jamie Zarlengo, claims that she was told she didn't qualify to be a recipient of the fund because her injuries were not "significant enough," even though she sought medical treatment before the 10-day period had passed. In a Facebook group for Route 91 Survivors, Zarlengo said that she chose not to go to the emergency room that night because there were people who needed help more than she did and she didn't want to divert resources from those people.
Another survivor, Billy Mason, recounts that he was shot in the foot and went to a local Las Vegas hospital to receive medical care, but left after two hours because doctors were overwhelmed with critical patients. Mason says he ended up driving for three hours back to his home in California before going to the nearest emergency room. Mason, like many other survivors who suffered from bullet wounds, did receive a payout from the victim fund but felt that no amount of money could compensate for the experience he suffered through or the healing process that came after.
Many survivors feel that the victim fund was not inclusive enough, because it did not allow for those who had suffered emotional trauma to apply for funds. While most states will assist with the costs of therapy sessions and lost income for victims of violent crimes, many survivors are still saddled with unimaginable costs that stem from medical bills and lost income. For example, California's Victim Compensation Program only covers 40 therapy sessions. For some survivors, that allowance would be used up in less than a year.
Some survivors tried to remain positive and offer words of encouragement in the Facebook group. Amber Newton, a survivor who escaped without suffering any physical injuries, said "That's awesome people are starting to see some help from all of this. I personally was not physically injured, which I'm incredibly grateful for. It feels good to read so many people finally receiving some relief."
Comments
comments