Holocaust Remembrance Day is commonly thought of as January 27 but for the Jewish community, it is Nissan 27, seven days after Passover ends. This year Nissan 27 fell on April 12th. I remembered all those lost by reading Sarah's Key by Tatiana de Rosnay – a book about a journalist doing an article on the Vel' d'Hiv', a famous bike stadium where over 10,000 Jewish people from Paris were kept for days before being sent to labor camps. She finds a girl's picture and is determined to find her.
[caption id="attachment_132008" align="alignnone" width="447"]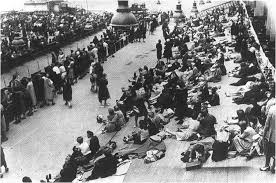 A fraction of the many Jewish people from Paris that were held in the Stadium. The girl from the book, Sarah, would have sat with her family just like all these others.[/caption]
As someone of French descent, I feel a pull towards these people. My grandmother's family came to America in the early 1700s to escape religious prosecution. My grandmother's nine-times great grandfather was born in Avize, Marne, Champagne-Ardenne. That's about 60km outside of Paris, an easy day trip for today's technology. My great-aunt moved back to France in the 80s and I have heard much about it from her. She tells me the stories of my distant cousins, people whom I wish to meet one day, and how they survived the Shoah. She puts me in contact with them so they can tell me their stories. I have one cousin still alive that survived the Holocaust as a small child. She was born in a labor camp and by some miracle, her mother and the others were able to hide her and feed her enough so that she would live. She has many health problems because of that but she is alive and mostly well. She lives in Normandy and is in her 70s. Her parents were part of the Vel' d'Hiv' and that is where my cousin,  who requested anonymity, was conceived. They were forced to have sex for the guards' entertainment. Knowing the story of my cousin, I connected with Sarah's Key in more ways than one would expect. It was a truly horrifying and emotional book that left you satisfied with the way it ended because the story was known.
Today, there is a plaque that commemorates the lives lost in the stadium.
[caption id="attachment_132007" align="alignnone" width="435"]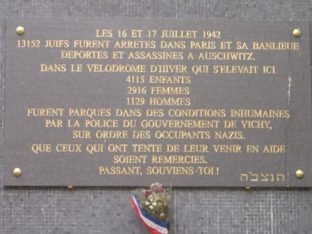 The plaque commemorating the Jewish lives lost.[/caption]
The contextual French to English translation reads as follows "On the 16th and 17th of July, 1942, 13,152 Jews were arrested in Paris and it's suburbs and murdered at Auschwitz. In the Winter Stadium stood 4115 children, 2916 women, and 1129 men. They were put in inhuman conditions by the French Police as per the orders of Nazi occupants. Those who tried to help are thanked. Passerby, remember." and the Hebrew on the end is more difficult for me to understand as it is in cursive but I believe it says 'the monument.'
So, on that dreary April day, I read my book and I remember with my entire heart those who were lost and those who survived. To me, Yom HaShoah means a celebration of those who lived and a commorance to those who did not make it. It means that I am going to eat the foods my family ate at the time and simply feel connected to them. To me, Yom HaShoah means connection.
Photo credit: Yad Vashem: The World Holocaust Remembrance Center
Comments
comments