On April 25th, about 25 minutes from where I live, John Williams shot Sheriff Eugene Cole in Norridgewock Maine, took off in his cruiser, robbed a Cumberland Farms convenience store, and then disappeared. That day, Williams was supposed to go to a court hearing in Massachusetts for illegal possession of a firearm. He was on the loose within the Central Maine area.
My school was on lock-down, meaning there is no open campus or sport's practices, just to be safe. Neighboring schools had SWAT officers walking up and down the halls. Three days later, Williams was found in hiding, not far from where he disappeared. People in my area are very relieved that Williams is no longer out there. I definitely feel safe now, but I still have a sense of unease.
In 2012 John Williams posted this to his public Facebook account: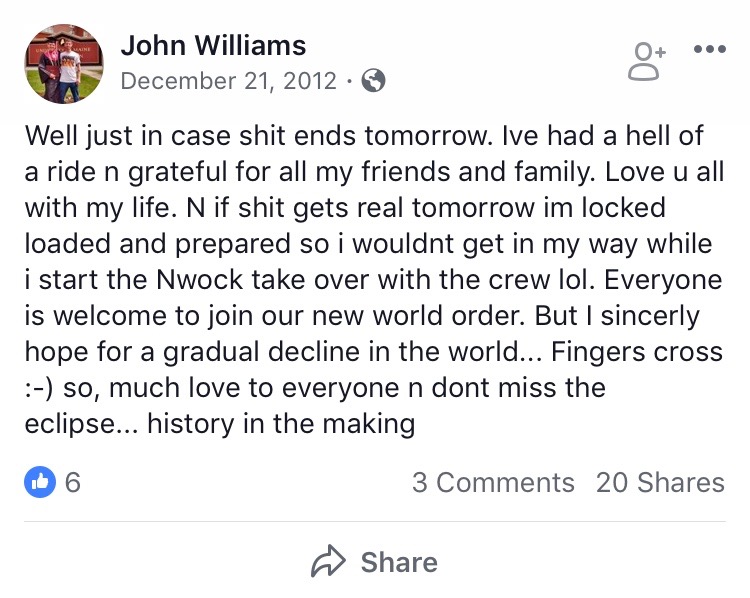 In 2012 there was a suspicion that the world was apparently going to end (read more about it here). Williams is saying that if the world is really going to end, he might as well start the "Nwock take over," and that he is "locked and loaded" for it. Norridgewock, or "Nwock," is the town that he killed Eugene Cole in with an illegal fire arm. It baffles me how not one of his 196 Facebook friends found this concerning or strange. It seems as if he had been planning this for while. Although this is not nearly as fatal as the Parkland shooting, this reminds me of how Nickolas Cruz posted pictures with an AR-15 before the shooting happened.
It doesn't matter if you are pro or anti gun control. We live in a world where people are constantly on social media.  If you see a post that is concerning, or indicates violence against others, show your schools resource officer. It could save a life.
Photo: Maine State Police / WMTW
Comments
comments