Deep down, Nikhita Nookala always knew she was a storyteller. She loved the boundless opportunity that comes with journalism— the possibility that a single sentence could be her legacy, the potential for one of her articles to make a home in someone's soul and drive them to change the world. For her senior year, Nikhita decided to join her high school newspaper, The Eagle Eye, so that she could continue telling stories and uplifting voices that mattered to her.
The things is, journalists don't always get to choose the stories they tell. Sometimes, their stories choose them.
And sometimes, teenagers end up writing obituaries.
As a survivor of the deadly Marjory Stoneman Douglas High School shooting, Nikhita found herself making headlines— literally. In the space of a day, Nikhita went from writing stories about music albums to covering the aftermath of one of the deadliest school shootings in American history. Journalism became her most powerful weapon when it came to speaking her truth and uplifting her classmates. In doing so, Nikhita became the written voice of one of the most momentous news stories of the year. 
"I started this year on a whim and loved it more than I thought I would. But after Feb. 14, I truly realized what kind of power the written word has," said Nikhita. "I was a co-author on the first two stories that were run online by our publication on Feb 18, which covered the shooting and the vigil following. The writing process was one of the hardest I'd ever been through, especially since I had lost a friend. Writing became my therapy and my coping mechanism."
Just four days after the tragedy, Nikhita co-authored The Eagle Eye's first online coverage of the event, writing about the candle-light vigil. She was a survivor, but she was also a journalist, and she had to balance both of these duties when she rose to the occasion to serve her community. Nikhita found the experience of interviewing grieving students to be both grounding and enlightening. It gave her a unique perspective on the role of journalists in navigating tragedies respectfully.
Her journey didn't end with The Eagle Eye, however. Nikhita took the Internet by storm when she published a poignant piece with leading teen magazine Refinery29,  explaining exactly what it felt like to return to a school that had been devastated by tragedy. Her candid voice allowed millions of readers to empathize with students and keep the legacy of Parkland alive. The news cycle eventually moved on to other stories, and the TV vans finally left Nikhita's campus. But the senior continues to influence over 17,000 Twitter followers online, sparking change every day with her words.
[caption id="attachment_137123" align="aligncenter" width="312"]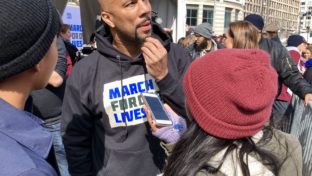 Nikhita interviews the rapper Common at a March for Our Lives rally.[/caption]
"Whether the mainstream likes it or not, student journalists are the future voices of America," Nikhita said. "[We] have grown up in a world filled with good journalists and bad, where journalism has started huge movements like #MeToo, where journalism has kept people like Roy Moore out of office with exposes and the truth. I think student journalists [like me] …  are in a position to change the world of journalism and bring back authentic, non-biased, nonpartisan, fact-based journalism in an industry that has been split into distinct red and blue news networks."
Today's teen activists have gathered much praise for their passionate, mature, and effective use of the media to get their message across. Nikhita embodies this movement for greater transparency, dialogue, and civic participation. Rather than engaging in inflammatory rhetoric, she tries to use her words to spark necessary and productive conversations. Her desire to impact the world is strongly influenced by her Indian-American identity. Nikhita's words reflect the promise of an age where students of color are increasingly reclaiming their place as leaders in society, breaking whatever barriers they find in their path.
"I think students of color have taken initiative beyond what has been expected of them. I think they are tired of being held back by traditional ethnic roles or their family values," said Nikhita. "The next generation of America is so diverse and so willing to accept each other, and I think it's awesome and a great sign of what's to come and who our future leaders will be. I don't think Congress will be 80% white for so much longer."
The past year has seen journalists inspire incredible change in society, from the New York Times' takedown of Harvey Weinstein to the 24/7 vigilance over the current presidential administration. Building on this momentum, youth have been rejuvenating, proving that there are many ways to change the world. And when it comes to changing the world, students like Nikhita Nookala prove that newspapers are more powerful than bullets. In a battle between truth and fear, the truth has won out so far.
Comments
comments