U.S. President Donald Trump and North Korean leader Kim Jong Un share a firm handshake as multiple cameras capture this historical moment for both countries. On June 12, both leaders arrived at Singapore's Capella Hotel for the summit and appeared at ease upon meeting each other. Soon after, Trump friendly pats Kim on the back as they walked into their first meeting.
[caption id="attachment_137454" align="aligncenter" width="312"]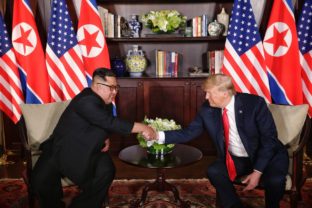 Kevin Lim/Straits Times[/caption]
Both Kim and Trump sat down with the press before they had their meeting with each other and with their respective translators and answered some questions regarding the summit.
"We're gonna have a great discussion, and I think tremendous success," said Donald Trump.

At times out past grabbed at our ankles and blocked our path but […] we overcame all these obstacles to be here," Kim Jong Un said.
The meeting lasted 45 minutes, after which Trump, Kim and their delegations sat down for expanded bilateral talks after the one-to-one.
[caption id="attachment_137457" align="aligncenter" width="312"]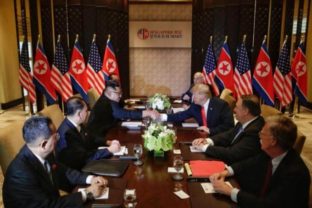 Kevin Lim/Straits Times[/caption]
On Mr. Trump's side of the table is Secretary of State Mike Pompeo, national security adviser John Bolton and White House chief of staff John Kelly.
Mr. Kim is flanked by top diplomat and vice-chairman of the Party Central Committee Kim Yong Chol, Foreign Minister Ri Yong Ho and vice-chairman of the Central Committee of the Worker's Party of Korea Ri Su Yong.
[caption id="attachment_137459" align="aligncenter" width="312"]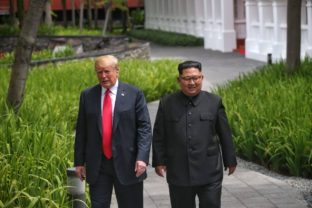 Straits Times[/caption]
After the talks concluded, both leaders and their delegates head for lunch before Trump and Kim take a stroll around Capella Hotel.
[caption id="attachment_137460" align="aligncenter" width="312"]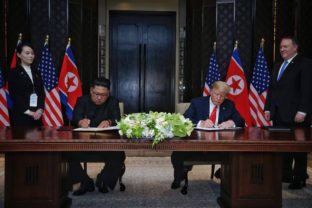 Straits Times[/caption]
Mr. Trump and Mr. Kim sat down to sign a joint document and shake each other's hands thereafter.
"We're signing a very important document, pretty comprehensive document, and we've had a really great time together, a great relationship […] More will be discussed at a press conference soon," said Mr. Trump.

Mr. Kim: "Today, we had a very historic meeting, overcoming our past history and embarking on a new beginning. We're about to sign a historic agreement, and the world will see a major change. I'd like to express my gratitude to Mr. Trump to make this happen."
These are the key points of the "comprehensive" document:
1. The United States and North Korea commit to establishing new U.S.-DPRK relations in accordance with the desire of the peoples of the two countries for peace and prosperity.
2. The two countries will join their efforts to build a lasting and stable peace regime on the Korean Peninsula.
3. Reaffirming April 27, 2018, Panmunjom Declaration, North Korea commits to working towards the complete denuclearization of the Korean Peninsula.
4. The U.S. and North Korea commit to recovering remains of prisoners of war including the immediate repatriation of those already identified.
[caption id="attachment_137462" align="aligncenter" width="312"]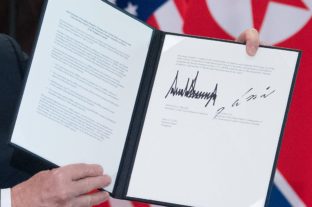 KUA CHEE SIONG/Straits Times[/caption]
Trump begins his press conference by thanking Singapore for hosting the summit and pays tribute to the leaders of South Korea, China and Japan. He then thanks Kim for taking a bold step for his people.
Trump focuses on the denuclearization of North Korea, saying after the document was signed that Kim agreed verbally to destroying North Korea's "major missile engine testing site."
"Chairman Kim has before him an opportunity like no other to be remembered as the leader who ushered in a glorious new era of prosperity for his people," Trump says.
This day marks a new beginning in the diplomatic ties between the U.S. and North Korea. It takes progress for these ties to grow and tighten. As for now, the world can only watch what is to come.
Comments
comments