Protesters across the United States recently marched in order to rally against Trump's approach to immigration. People from places like Washington, Atlanta, Los Angeles, San Francisco and Milwaukee brought awareness to the increase in family separation.
In these marches, many carried signs that heavily depicted their anger and young children being separated from their families.
[caption id="attachment_138774" align="aligncenter" width="312"]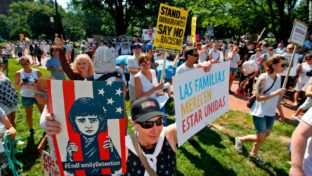 Photo: Alex Brandon/AP Photo[/caption]
Huge cultural influencers in our society even took time to make appearances at these marches and speak out against Trump's actions. One of them was Lin-Manuel Miranda, the creator of the musical "Hamilton." He sung "Dear Theodosia," sharing a theme of creating a better place for children.
Before singing in Washington, Lin-Manuel Miranda spoke clearly, "We're here because there's parents right now who can't sing lullabies to their kids."
Lin-Manuel Miranda used lyrics effectively to portray how he believes society should be taking action. Many privileged citizens fail to recognize that children are inhumanely being torn away from their families. In fact, going back to third-world countries might mean death or worse lives for some. Lin-Manuel Miranda used his voice to broadcast these problems.
One of the most powerful moments in the Los Angeles rally was when U.S. Rep. Maxine Waters made a speech to Trump himself. Her frustration was evident in her speech and the way she addressed Trump's negative immigration policies.
Waters exclaimed, "How dare you? How dare you take the babies from mothers' arms? How dare you take the children and send them all across the country into so-called detention centers? Donald Trump, you think you can get away with everything but you have gone too far when you are trying to break up families in the way that you do."
It is difficult to understand how some can back up the savage treatment that immigrant families are receiving. Trump is crossing into an entirely different territory, one that speaks volumes of his character. Regardless of the political stance one is on, no one should wish this kind of lifestyle for another human being.
Protesters in Atlanta successfully captivated these inhumane situations by carrying a cage with baby dolls inside. This was supposed to expose the fences that some of the children have been put in.
John Lewis, a U.S. representative at the protest, stated, "We must teach people in power that we will not be satisfied with the order of things."
Immigrants are being blamed for all the issues in our country. They are being put under pressure for matters that have little to do with them and more with the problematic system of this country. Immigrants come here for a better life, education, jobs and more, so how could we deny them those opportunities? Instead, many selfishly want all of this to themselves, claiming that immigrants only taint the streets and offer violence.
Photo: Mitch Lensink
Comments
comments