With his awkward hand-holding to his constant backpedaling, Donald Trump knows how to do damage control. Where tens of thousands of protesters lined the streets of London in response to his visit to the United Kingdom and a giant orange "Baby Trump" balloon was roaming the streets, Trump's criticisms of the British Prime Minister still managed to top the news. His agenda was set with meeting both May and Queen Elizabeth II, most to the country's dismay.
[caption id="attachment_139699" align="alignnone" width="659"]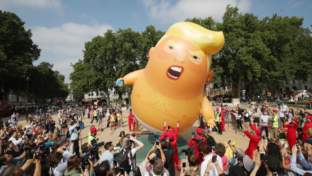 Photo: PA/CNN[/caption]
In an interview with a Rupert Murdoch-owned publication The Sun on Thursday, he undermined the Prime Minister's stance on Brexit and leaving the European Union. At a time of uncertainty and consistent negotiations, this sentiment created much noise in many political and media fields with the amount of weight the criticism may hold. "She didn't listen to me," Trumps says as May had ignored his advice and opinion on Brexit, and that her "soft" approach with the issue would not go well for U.K.-U.S. trade relations. He praises former Foreign Secretary Boris Johnson, who had recently left May's cabinet over this very same issue and believed her approach was a "betrayal" to the referendum held for the public to leave the E.U.
Calling the interview "fake news," Trump denies his criticism of the PM and claims that the publication cut out a lot of the praises he held for May. His public apology to May became more of targeting rant at the publication for showing him as one-sided and aggressive. His visit got off to a rough start seeing that May has doubt running through the U.K. with the ongoing discussion over leaving the E.U. and her leadership in general.
Leave it to Trump to try and make amends and show a united front. After the first day became a Trump-style media frenzy, he left day 2 to be a carefully routined amendment of his actions. He went through great lengths to praise May throughout his media audiences on Friday and reaffirm his support of the U.S.-U.K. foreign relations, calling the U.K. the "highest grade of special" — a great change from his former comments of "soft Brexit." As Trump is never fully one to retract any of his statements, he stood by his opinion that he would have handled Brexit differently then May and even added that May's former Foreign Secretary, Johnson, would "would be a great prime minister."
"I also said that this incredible woman right here is doing a great job, doing a fantastic job," Trump added.
Comments
comments