I was lucky enough to get to sit down with the founder and current President of De Manos Con Amor, Katherine Najera! Before I delve into the interview questions, I must give a brief overview of this wonderful non-profit and what it's about! De Manos Con Amor (translated to With Hands Our Love) is a New York City/ Honduran based non-profit organization that is aimed at breaking the poverty cycle in Honduras while empowering women worldwide. Handmade bags, bracelets and headbands, made by women in Honduras, are sold while 100% of the profits go back to the women themselves and towards a funding a school in Juticalpa that is partnered with the organization. They have an Instagram page that posts feminist-based content along with LGBTQ+ pride, Latinx representation and current events. An incredibly important aspect of DMCA is the principal mantra followed: empower female entrepreneurs, students and working-class employees, especially women of color. I myself have been working with Kat and the rest of the DMCA team for almost two years! I have gotten to know some of the most empowered, brilliant and admirable women ever while volunteering; thus, I decided to interview Kat to not only understand her motives for starting such an inspiring organization but also to find out a little about her action-packed and incredibly exciting personal life!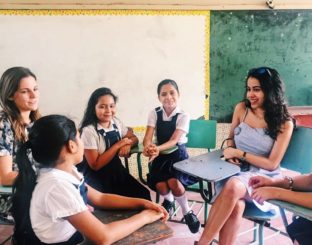 Katherine was born and raised in Queens, New York, to Honduran parents! After graduating from Syracuse University, she became a Financial Consultant before founding De Manos Con Amor. A teenager myself, I definitely wanted to know what kind of student she was.
What Kind of Student were you? Even before entering college? Were you in any Clubs/Extracurricular activities?
I was taught to always be incredibly studious. It was a mindset that I had instilled within growing up. I just instinctively knew that I wanted a better life for my family and the way to go about this objective was to finish high school, go to college, graduate, then get a job. This speaks to immigrant culture and how it influenced my studies overall. As for college, it was much harder for me because I was balancing so much. I had a job, three different internships and I wanted the college experience. All of this really helped me navigate what I liked and what I didn't. I was a financial marketing major, so I really figured out what type of finance I wanted to be involved in which ended up being consulting.
How did you keep track of everything?
I am a STRONG believer in a cute agenda. I literally used to write down everything, so I would remember. I just genuinely believe that it is possible to have time for everything just as long as you manage your own time.
What made you want to start a non-profit straight out of college?
I was part of a non-profit in high school called Minds Matter which was focused on lower-income students who were high achieving. I think just being surrounded by so many people who wanted to help me and all of them were volunteers really made me want to start something similar as an adult. I wanted to specifically give back to Honduras because my family is from there, and I have seen and experienced their situation first hand, so I knew how much help they needed.
Did you expect the immense success that De Manos Con Amor has gotten this past year?
Honestly, no. Going into it, I had zero expectation; I was just hoping that my experience with consulting and my wonderful team would help the company grow and it has.
What was your mindset like when starting this company? Is it hard staying positive?
In the beginning, I was extremely positive and it was very difficult because so many people were questioning why I was doing this and how I would make time for it if I already have a full-time job. My main strategy was to listen and keep an open mind with the people you encounter. Even if you are listening to them, you don't have to necessarily take it, but you could possibly learn from them. It wasn't always easy. Some things took longer than others, but if you go in with the mentality that this might go well or it might not, but either way I'm going to learn from this.
How do you balance a full-time job with being president of a non-profit?
Because I love working on DMCA, I really don't mind doing the work for it. It was never really straining for me, so I just always made time. Time wise, it does take a lot of time, but because of my love for the cause, I don't mind it.
What is your lifestyle like? Is there anything you would change?
I would not change anything. I feel like I have a great balance of everything whether it be hanging out with my friends, DMCA, traveling, working out etc.
I notice that you travel A LOT. Was traveling one of your goals when thinking of a long-term career?
Absolutely! One of the reasons why I went into financial consulting was because I knew I wanted to travel. You are actually expected to travel; I was actually working in India for about seven weeks through my job which was an amazing experience to be able to work internationally. I also love to personally travel as well! It was such a goal of mine to do so because I definitely think that visiting other countries really helps you understand what really matters in life and allows you to self-reflect which is something that I try to do as much as possible.
What do you do on a day off? How do you distress?
• Working out. It helps me so much. It releases so many endorphins and gives me so much energy for the day. I always try to get in a morning workout! If I am going to have a long day, with several meetings and conferences, I  try to set aside time for my health. Some people may go on social media or the internet to help them relax, but it doesn't clear my mind, it clutters it more.
Make sure to check out the De Manos Con Amor website for some beautiful handmade Honduran products. To follow Kat's Adventures, check her Instagram.
Comments
comments