Ivanka Trump officially announced the closing of her namesake fashion brand on Tuesday, July 24. The brand originated in 2007 with the intent of providing affordable business attire for women, but when her father announced his candidacy in 2015, buying from the brand became an indirect political statement. Retailers that carried her line began receiving thousands of complaints leading to boycotts that caused sales to drop by 288 percent in March 2017. While a great deal of the problems that Trump encountered in her business endeavor was due to her father's problematic tendencies, Ivanka Trump has been digging her own grave in other ways as well.
[caption id="attachment_140499" align="aligncenter" width="393"]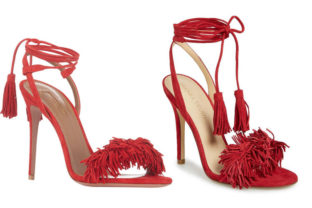 Via The Fashion Law[/caption]
Back in June 2016, Trump got herself in hot water over allegedly copying the design of Italian luxury footwear giant, Aquazzura. The designs of the two shoes were extremely similar and retailed for vastly different prices. Trump's attempt to capitalize off of someone else's design expertise did not go unnoticed and caused quite the stir in the fashion community. Aquazzura ended up dropping the case despite the buzz, but Trump's brand still took a brutal hit.
Another very public ordeal regarding Trump's brand came in February of 2018 when Nordstrom, a primary retailer of the Ivanka Trump line, released a public statement saying that it would no longer carry Trump's line due to the fact that it failed to meet their brand performance policy. This did not stop the spark of outrage that followed, accusing Nordstrom of attempting to make a political statement by releasing the brand. In a tweet that was not too presidential, Donald Trump angrily took to Twitter claiming that Ivanka had been treated "unfairly."
Perhaps the most problematic of factors in the demise of Ivanka Trump's brand lies in Subang, Indonesia. The Guardian spoke to many of the workers employed at the factory manufacturing the fashion line and they described the horrid conditions that they work in. Workers described that they were being paid some of the lowest wages in Asia among constant verbal abuse and threats. Some voiced concerns about not being able to sustain their families, but also not being able to find work anywhere else. It was also common for employees to be forced to work excessive amounts of unpaid overtime. The story broke shortly after three labor rights activists visited the factories to look further into the conditions and then mysteriously vanished, furthering suspicions.
[caption id="attachment_140502" align="aligncenter" width="482"]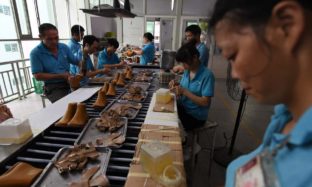 Via The Guardian[/caption]
There is no cut and dry reasoning for the end of Ivanka Trump's fashion line seeing as there are many facets as to why the business failed. Despite her brand being under a particularly amplified spectacle, these trends are far too common. Second-hand design concepts and corrupt production systems are seen in many of fashion's top brands. Regardless of political stance, know what you're money is funding.
Comments
comments