While the present state of politics may seem bleak with nothing but old white guys as far as the eye can see, there is hope on the horizon. That hope lies in the faces of the enterprising youths coming to authority and gaining traction in America's political sphere of control.
Listed below are the diligent and resourceful people to watch out for- people who prefer real change and equality over money and power. They are why it is important to get involved and vote, so that the way politics are now begins to shift.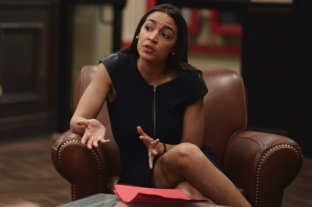 Alexandria Ocasio-Cortez
Just 28 years old at the time of her primary election triumph over chairman of the House Democratic Caucus Joe Crowley, Ocasio was an unlikely candidate and a surprising, incredible win. Coming from a lower income Puerto Rican family living in the Bronx, and a job as a bartender only a year prior, the Democratic party suspected it would be an easy win for Crowley.
However what most people severely underestimated was Ocasio's grit and passion to win, matching her running mate's wit in debate at every step of the way, and working diligently to gain support from groups all over the city.
With Bernie Sanders as her socialist, left-wing idol, Ocasio put in the hard work with other volunteers to knock on the doors of 120,000 houses and send even more text messages, barreling through Crowley's lazy, complacent approach to the campaign race. Despite all her efforts, perhaps the most effective move was the emotional and moving campaign video she released a month before the primaries, detailing her background, and the representation an ever changing New York City deserves.
It's time for a New York that works for all of us.

On June 26th, we can make it happen – but only if we have the #CourageToChange.

It's time to get to work. Please retweet this video and sign up to knock doors + more at https://t.co/kacKFI9RtI to bring our movement to Congress. pic.twitter.com/aqKMjovEjZ

— Alexandria Ocasio-Cortez (@Ocasio2018) May 30, 2018
Ocasio stands for affordable housing and healthcare. She stands for free tuition and calls for criminal justice and prison system reform. She isn't some lofty politician, miles from the Bronx and Queens. Through activism she has lived her whole life among the people and for the people. And even though she saw victory against Crowley, her story is not yet over. Ocasio still has to win the general election against republican candidate nominee Anthony Pappas on November 6th to earn a congressional seat. To donate, spread awareness for, or learn about her cause, visit her site (también disponible en español) here.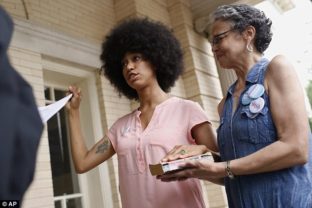 Mariah Parker
The iconic swearing-in ceremony photos from 26-year-old County Commissioner Mariah Parker made her win go viral on Twitter. Parker's actual campaign made very few waves in the social media arena until her choice to place her hand on the Autobiography of Malcolm X rather than the Bible, and to clench her other hand in a fist as a salute to the Raised Fist and Black power caught people's attention.
hey y'all, this is Mariah Parker, the newly elected commissioner of GA district 2 in Athens, Georgia. the book she's being sworn in on is a copy of The Autobiography of Malcolm X. the woman holding the book is her mother. Mariah won by 13 votes.

please, always vote. it matters. pic.twitter.com/DE6TuLGppq

— rachel claire (@rachie_claire) June 7, 2018
Parker herself is a fairly dynamic and inspiring, as an openly queer Black woman with a PhD and a talent for rapping as well as the desire to transform politics to better cater towards communities of color. She is also a prominent and notable activist, in her home community of Athens, Georgia through Women's Marches and in larger movements like DACA protests. Parker had no easy adolescence, dealing with anxiety, substance abuse and depression whilst being a minority in the south.
While Parker's future as county commissioner is unknown, and she has hinted that it is somewhat desolate being a minority in politics, Parker is aware of the importance of her voice and representation for people of color everywhere. There is no doubt that she will keep fighting for income equality, prison depopulation, equitable education opportunities, and all of the other principles she emphasized in her campaign.
Following the examples of Parker and Cortez, many women of color and Black women in particular have been taking the reins and, now more than ever, showing up in droves to both vote and run for office. In 2018 alone there will be 400 Black women running for local, state and federal offices.
"You can't wait for a hero to show up. If you see injustice and you see a need for someone to take action, it has to be you." -Mariah Parker
Kaniela Ing
Perhaps the biggest underdog of them all is Kaniela Ing, a member of the Hawaii House of Representatives in the 11th district and a 29-year-old father and husband native to Hawaii. Before being elected to the State's House at age 23, Ing was the child of a widowed mother, and started working in the pineapple fields at age 14 to help pay the bills. Even now as he campaigns door-to-door after working in all four levels of the government, a staggering 60 percent of his paycheck goes towards his significant student debt and rent.
Like Ocasio, Ing is very pro-hardworking people, and fights for the rights of the native Hawaiian community trampled by rich companies and tourist traps. More than that Ing has spoken out in advocacy for an end to homelessness, Medicare for all, women's and LGBT+ rights, as well as the rights of workers and immigrants as stated in his Bold Vision.
In fact Ing had a documentary-style video made by the same filmmakers responsible for Ocasio's campaign clip to highlight Ing's championship of and dedication to his home island of Hawaii.
A Hawaii for the many is possible, but we have to take it, together.

On August 11, this movement can make history, but I need your help.

Please Retweet this video, Donate, and sign up to knock on doors, send texts + https://t.co/dELbZgUFNP#Ing2018 pic.twitter.com/aGXwSj4m5f

— Kaniela Ing (@KanielaIng) July 25, 2018
Kaniela doesn't have the funds to compete with political giants who campaign with blood money, but he is the only candidate running with socialistic, unsullied endorsements who has taken on billionaires and special interest lobbyists before, and won.
To find out more about Kaniela's story, what he supports, and how to help spread his message, visit his website here.
Important election reminder: November 6th, 2018. This is the date of the midterm elections, where all 435 seats of the House of Representatives will be opened for the taking, as well as 35 out of 100 Senate seats. Kaniela Ing and Alexandria Ocasio-Cortez are both planning on being candidates in this congressional election.
As innovative and strong as these trailblazers are, there is nothing they can do without your vote. So let's get to it. For those who haven't registered to vote, visit Inspire U.S. to register for free now. If you're registered, sign up here to receive alerts and information about upcoming elections in your area. Visit the USA.gov site for any other questions you might have surrounding voting and registration.
It can be hard for new voters to research candidates and elections. Luckily BallotPedia offers an impartial history of all of the candidates up for different elections in every county of the US, from their important votes and stances on issues, to their donors and the places where they got their campaign money.
Make it a point to ensure that the people in charge of our country aren't outdated, corrupt and closed minded. The young are the future, and we should be in charge of our destinies together on this planet, along with the good of humankind.
Photo: Jesse Korman
Heart
Haha
Love
Wow
Yay
Sad
Poop
Angry