Environmental sustainability has been a focal point over recent years, with countless people taking steps of their own to pursue global environmental stability. Even investing has started to follow sustainable principles with the rise of ESG investing. ESG investing is an investment strategy that considers the sustainable and ethical impacts of an investment in a company, rather than just the financial gain that can come from it. Environmental, Social, and Governance (ESG) criteria has become an increasingly popular way to evaluate companies for a potential investment, enabling investors to join their values with their investments. ESG investing has gained much traction over the years, and as more and more investors take environmental and social criteria into their investment considerations, companies should readjust and adapt to these new standards.
The ESG scale is out of 100, with subscores in each specific standard. ESG rating agencies and investors who use this criterion look into numerous metrics when determining if a company is worth investing in. In the environmental criteria, a company's impact on fragile ecosystems, the amount of waste and carbon emissions that are produced, and whether or not renewable energy is being used are all few of many metrics that ESG investors look at environmental wise. In the social and governance criteria, a company's workforce diversity, treatment of employees, salaries of executives and employees, and public stances on social justice issues are all taken into account with ESG conscious investors. For example, if a company does not maintain strong relations with its labor force (and the labor force constantly goes on strike), then it would lose points in the social and governance criteria.
There are a plethora of benefits when companies adhere to ESG standards. Companies that conform to ESG standards have a far lower risk of an ESG risk event, such as an oil spill or a mining explosion. The negative impacts of these events can be deadly to both the environment and the company involved, resulting in the company being unable to maintain a sustainable competitive advantage. For example, after the Upper Big Branch Mine explosions and Automobile emissions scandal, their stock prices tanked 52.7% and 26.4% respectively. Additionally, according to the Corporate Investment in ESG Practices report, companies that invest in their ESG performance and operate on effective ESG practices see higher profits and stock returns, lower capital costs, and overall better accounting and market performances. As more investors are attracted to companies with strong ESG profiles, a company that does not take into account any ESG criteria is at risk for a higher reputational and litigation risk, which in turn could lead to shareholder and customer discontent.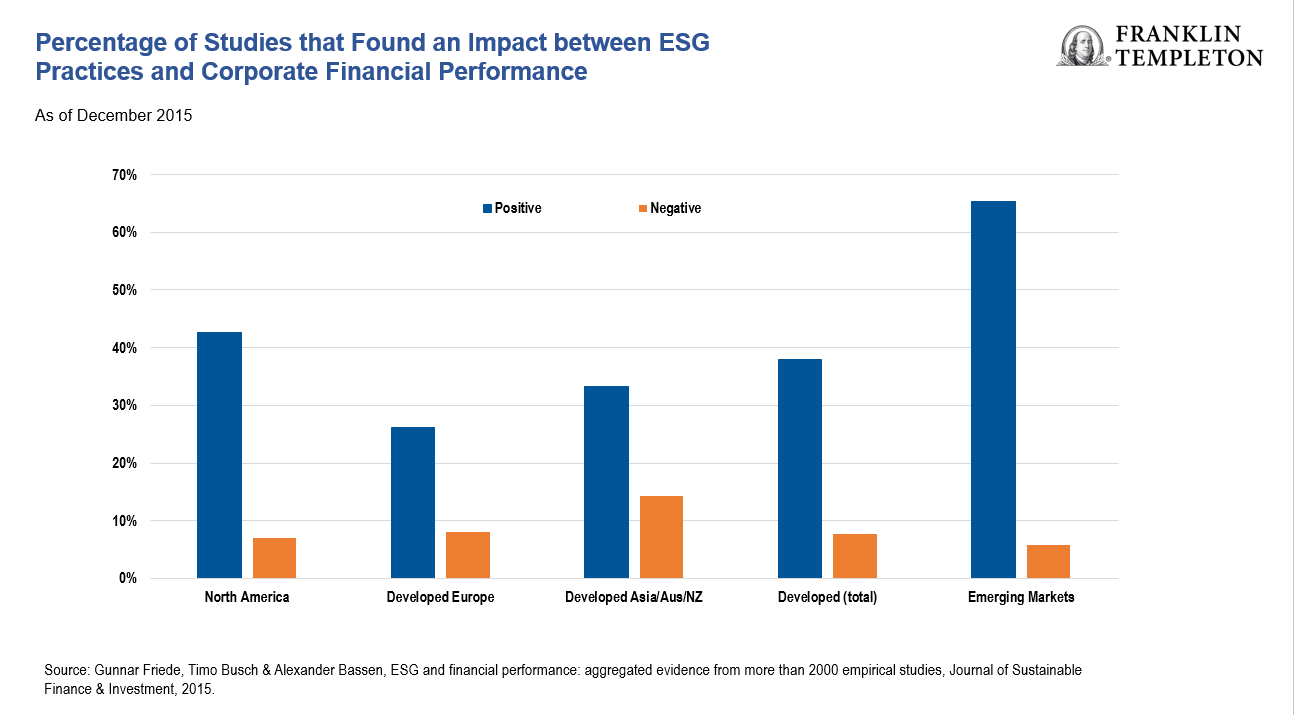 As environmental sustainability plays a greater role in asset investments, many large companies such as Facebook and Salesforce have invested in helping preserve the environment. Companies that integrate ESG factors into their practices can reap benefits that give them an edge over competitors, and that is why more and more investment companies are taking into account ESG criteria when making investment decisions. ESG guidelines ultimately drive efficiency that generally lowers costs and increases revenue. ESG practices allow for corporations (and the private sector) to play a role in helping achieve environmental stability, which is what many Americans have wanted for the past few years. ESG practices also promote interests of the working-class, allowing the working labor force of companies that integrate ESG factors to work in a positive and safe environment. ESG investing has the potential to guide us to a hopeful future- a future where environmental sustainability has been achieved.
Photo: Keith Cooper/Flickr