Representation in YA has been an issue for a while, and it seems like most of the protagonists are straight and white. It can be discouraging as an LGBT teenager when every single book is a heterosexual romance, which is why I've rounded up my favorite books with prominent gay characters. You can thank me later.
1. I'll Give You the Sun, by Jandy Nelson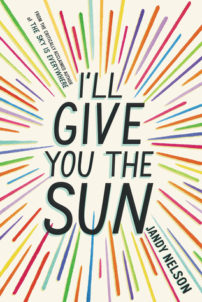 I'll Give You the Sun is an absolutely beautiful book. If you want something with an LGBT protagonist, without romance being the main focus, you'll probably like this book. The story is about twins, Noah and Jude, who have grown apart. There is an LGBT love interest for Noah, but the primary focus of this book is the relationship between the twins, how they fell apart, and how they reconciled.
2. Everything Leads to You, by Nina LaCour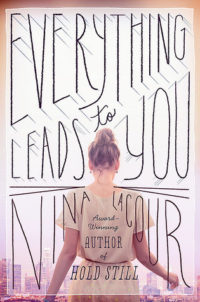 If you want a sweet, fluffy, angst-free book, Everything Leads to You is an excellent choice. The plot follows teenage set designer Emi Price, who loves film (and girls). She promises her brother she'll make her summer epic, but she gets more than she bargained for when she finds a letter written by her favorite Old Hollywood actor. The letter leads her to Ava, a girl with a tumultuous past. LaCour writes teenagers beautifully; it never feels like she talks down to her readers. Her characters all feel passionate and real. This book is a love letter to film and girls who like girls.
3. The Miseducation of Cameron Post, by Emily M. Danforth
This book is about a girl who is sent to conversion camp, so it might be troubling to some. If that doesn't bother you, I highly recommend this book. It's heartbreaking and hilarious in equal measure. Cam is spunky and sarcastic, and anybody who's ever crushed on a good friend will relate to her.
4. The Song of Achilles, by Madeline Miller
Warning: Don't read this book if you aren't prepared to cry. A lot.
Madeline Miller has written a gorgeous retelling of the Iliad, focusing on the relationship between Patroclus and Achilles. It begins when they're in their early teens, and ends during the Trojan War. Miller has a beautiful, poetic style that never feels overdone. Her characters are deeply flawed and real and you can feel how much they love each other, which only makes the end more heartbreaking (I cried for two hours after reading this, no joke).
5. Carry On, by Rainbow Rowell
Romance has always been a staple of Rowell's, and her first LGBT love story did not disappoint. If you're looking for fantasy with gay characters, this book is amazing. It feels very Harry Potter, but Rowell puts her own unique spin on it.
6. The Raven Cycle, by Maggie Stiefvater
The romance between the two characters in this book is admittedly slow-burn (yes, you will have to wait the entire series for them to kiss, I know). If anything, that makes it even more satisfying when they finally do get together. Also, the LGBT romance is arguably not as prominent as the straight one, but I'll forgive Stiefvater because she's writing a trilogy about it next.
Stiefvater has a writing style that feels dream-like. If you like fortune-telling and dead Welsh kings, I highly recommend her work.
7. The Bane Chronicles, by Cassandra Clare
Ten short stories about The Mortal Instruments/Infernal devices character Magnus Bane. He's an immortal, bisexual, half-Asian warlock with a thing for glitter. Yes, it's exactly as amazing as it sounds.
8. Tell Me Again How a Crush Should Feel, by Sara Farizan 
Farizan's specialty is gay Middle-Eastern girls. In Tell Me Again How a Crush Should Feel, Leila hides her sexuality from her school and her family. She feels like an ousider as a Persian at a majority white school, and being a lesbian only makes her feel like more of an outsider. There's a romance, but the focus is more on Leila's growth as a character as she grows closer to her friends, explores her identity, and deals with heartbreak.
9. Aristotle and Dante Discover the Secrets of the Universe, by Benjamin Alire Saenz
Saenz writes about the experience of two Mexican-American boys growing up in the U.S. Ari and Dante are two very different people, but they gradually become friends. This is a wonderful coming-of-age novel in which Ari and Dante both explore their identities and their feelings for one another.
10. The Trials of Apollo, by Rick Riordan
Another great book if you're not looking for something romantic, this book follows the god Apollo after he was turned human by his father as punishment. He joins forces with a twelve-year-old homeless girl named Meg, hoping to discover how to regain his immortality. The developing friendship between the two is the main relationship of this story.  This book is amazing in part because the protagonist is openly and proudly bisexual. You may appreciate this book more if you've read some of Riordan's other work, but you'll still understand what's going on if you haven't.
Of course, YA could always do with more diversity, but these ten books are a great place to start.