Newly-weds Hannah Rose, née Winterbourne, and Jake Graf were met by the transphobic headline 'Tran and Wife' from The Sun newspaper following their recent marriage.
The controversial front-page headline on March 27 was followed with a stunning article written by Emma Pietras regarding the recent marriage of transgender couple, Hannah, 31, and Jake, 40.
The sub-heading on the U.K's national newspaper also caused outrage, featuring the words 'Jake who used to be a woman weds Hannah who was a man' which the married-couple took to Twitter to reveal their opinion on the phrase used.
Hannah and Jake were mutually disappointed by the headline. Jake revealed to Affinity Magazine, 'We were both disappointed more than anything. It was really crass and rather tarnished a lovely article inside. I think that the writer was also a little let down by it and I know that the Sun is aware that they made a faux pas. Hannah and I tend to take these things on the chin but we knew that the wider community would also be really upset about it.'
People took to Twitter to express their annoyance with the headlines and to shower the newly-weds with support.
Writer, Actor and Director, Jake first met British Army Officer, Hannah through a mutual friend and with help from old-fashion Facebook.
Jake revealed, 'We met after a mutual friend did a bit of matchmaking and I decided to send Hannah a friend request on Facebook. She got back really quickly with a very sweet message saying that she had been following me for a while and we just started chatting.
'She was funny, beautiful, sweet, really bright, had an impressive military career and was also open to having kids. Basically my ideal woman. We had our first date a week later, which lasted 11 hours and we've never looked back.'
[caption id="attachment_131591" align="alignnone" width="258"]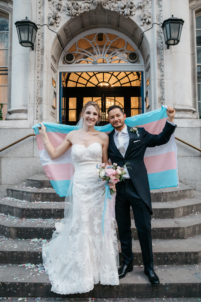 Mr and Mrs Jake and Hannah Graf. Credit: Paul Grace[/caption]
Hannah described the ceremony as a celebration of love, 'The wedding was magical, we got married in a beautiful location in Chelsea followed by a really intimate reception in a local restaurant. I had been given an amazing dress by designer Ian Stuart and Jake looked so handsome in a tailored suit from Labassa Woolfe. It really was just a celebration of our love – it was perfect.'
Jake encouraged the young transgender community to not get caught up on the headline, 'Try not to get too caught up on the headline, things are slowly changing. If you're having a tough time, try to remember that things really do get better: you will find your tribe and your people, friends that love and accept you for exactly who you are, and more often than not, your close family will eventually come round.'
[caption id="attachment_131592" align="alignnone" width="437"]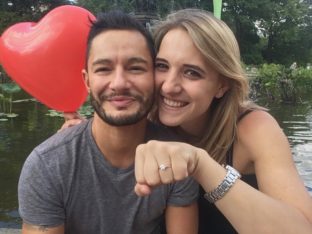 Jake and Hannah. Credit: Paul Grace[/caption]
Hannah gave this advice for any of the young transgender community, doubting they would ever find love, 'Don't give up. I wrote myself off from an early age and I honestly believed that I could never find anyone who would want to love me, but that was just internalised transphobia. If you put yourself out there, you may be surprised what comes back.'
Since the published headlines in print, The Sun has altered the comments used online.
A The Sun spokesman, stated, 'We were really pleased that Hannah and Jake chose The Sun as the place to share their news and we hoped that by taking their story to a wider audience we would be able to celebrate this happy day with them. We recognise that wording around this issue is important and we did take steps before publication to balance the need to explain the story whilst also being aware of the sensitivity of the issue.
'We've since spoken to Hannah and Jake and consider the matter to be closed, and we wish the couple the very best for a happy future together.'
Comments
comments