In the final democratic debate, Biden declared that he would be choosing a woman to be his running mate if he was the nominee. By that point in the race Senator Bernie Sanders was still running, but it was going to take  a very concerted effort to get to the general – an effort that's seemingly impossible amidst a pandemic – so Biden was already making plans for who would be assuming the Eisenhower Executive Office. After months of speculation, betting, explanations of pasts and visits to Delaware, former Vice President Biden selected his running mate: Senator Kamala Harris. 
The duo then made their first public appearance together, coming together on stage at a high school in Wilmington, Delaware. Harris stood in front of the crowd and stated, "As somebody who has presented my fair share of arguments in court, the case against Donald Trump and Mike Pence is open and shut."
Harris & Biden's Background
"That little girl was me," Kamala Harris said, concluding her attack on Joe Biden during the second democratic debate. The conversation shifted to busing and race, and Harris used this moment to strike. Sharp breaths were drawn and shocked looks came across faces around the United States. Did Kamala Harris just end Biden's run for the White House?
In democratic debates Kamala Harris was a focused opposer – she came in with a goal and she executed on it…That focus was on Joe Biden. Harris was not always the most calculating or aggressive debater, but when she went after Biden, she was doing her best work.  Harris critiqued Biden on topics like the 1994 Crime Bill and segregationist busing practices, connecting to her own experiences and even selling tee-shirts. She spun an argument regarding the practices and ended the attack with the infamous statement, "That little girl was me."
While the second night of the democratic debate circuit may feel as though it occurred many years ago, some people are raising eyebrows at the pairing and questioning the match because of the tension on stage. This was the cause for a slightly faltering smile from Stephen Colbert, when Harris was questioned on this during a June episode of "The Late Show With Stephen Colbert," where she kept insisting with a laugh, "It was a debate!" 
However, despite the debating, Harris and Biden have a long and amicable history working together in congress (which was part of why it was so stunning to Biden when he was grilled by her), including a deep friendship with Biden's late son Beau Biden. Biden explained that he "does not hold grudges." Biden also is a candidate of the party, and while some felt that he likely wanted Susan Rice (an Obama-era favorite), but she frankly would not have seriously aided his campaign, and his selection had to serve the democrats first.
Foreign Affairs
Foreign policy is important to Biden, as he has often touted his relationships with world leaders and his experience, even claiming that he was "begged" to run. Harris, however, has not worked in this field. If Trump leaves office, the United States is going to be working to rebuild its image on the international stage. Vice presidents often draw a great deal of their power in the position from their diplomatic capabilities, dating all the way back to President Franklin Roosevelt deploying Vice President Henry Wallace on trips abroad. Harris does not appear to be the type of person who will be willing to step back (much to the sexist scrutiny of those who attack her "ambition"), so Harris may be following in the internationally-focused footsteps of the likes of Vice President Cheney,  Vice President Gore, Vice President Pence and Biden. California, the state that Harris serves, is rich with technological and militaristic production, which is valuable.
Harris and Biden are on the same page when it comes to most foreign policy stances. They both want to maintain U.S. standings in terms of trade and United Nations respect, but not disrupt past Democratic stances. Biden wants to take things slow, but there has been some criticism of his pacing and financial strategy. A shift from the Trump Administration, both Harris and Biden want to put more pressure, in terms of human rights, on the Kingdom of Saudi Arabia and Hong Kong.  Candidates like Sanders and Secretary Castro had broken from the norms, but both Harris and Biden stand in extreme support of Israel, which is not promising to the Progressive crowd that they're already struggling to attract. Despite the excitement she has garnered because of her Indian identity, Harris has not shied away from criticizing Prime Minister Modi's nationalist policies, which contrasts Trump. Harris shared that she greatly values African nations, saying that she would like to work with them further. This could be positive, especially if ongoing trade talks between Kenya and the US are still occurring if Harris takes office. Harris and Biden are very committed to reforming many relationships that have been harmed since 2016. Both have pledged to reconsider the Comprehensive and Progressive Agreement for Trans-Pacific Partnership, to reenter the Joint Comprehensive Plan of Action and the Paris Climate Agreement.
Biden and Harris have both lamented over "endless wars," but Biden was greatly involved in Afghanistan (despite his claims in 2010 that U.S. troops would be out by 2014 "come hell or high water"), and neither member of the ticket pledged to remove troops. Harris has supported bills that pledge assistance to Yemen, but stood strongly against Sanders' July legislation to cut military spending by 10%. This puts many watching the Middle East, for political and personal reasons, on edge. On this front, Biden made a much savvier choice by selecting Harris, versus Rice (who was on the list of finalists), who set off alarms with activists because of her hawkish tendencies/record.
A lack of coherency in terms of international policy has been a bi-party problem for a long time, but at least this pairing is well-matched, ideologically.
Where Harris Helps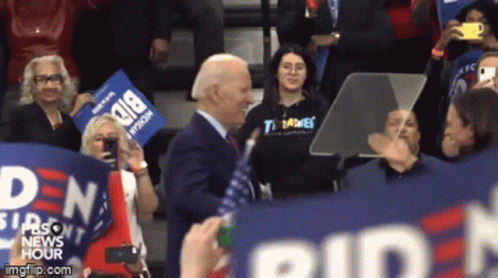 Kamala Harris has made history. She is the first ever Black and Asian American woman in U.S. history to be a general election candidate for vice president (or president, for that matter) for the Democratic or Republican Party. Joe Biden is not a fair representation of what the Democratic Party looks like, demographically or ideologically, especially as his record, pool of accusations and tendency to make serious gaffes do not leave him in the best light. Kamala Harris is a much better figure of the DNC. Additionally, there were serious demands that Black women be represented by the party on a national level. "He better pick a Black woman," the Chair of the Democratic National Committee Black Caucus, Virgie Rollins, stated. This came with encouragement from activists and a letter signed by over 100 Black men asking that a Black woman be selected as Biden's running mate. Biden's campaign recognized the necessary timeliness of his selection. He had previously been considering choosing Amy Klobuchar as his vice president (VP), but after Black Lives Matter protests around the world, Klobuchar's leniency with police forces in Minneapolis, Minnesota, the heart of the movement and the site of George Floyd's murder, would simply not stand. Asian voters in the United States are typically ignored, and the selection of an Asian candidate provides a sense of visibility.
Harris provides relative youth to the ticket, but not in a way that leaves voters and insiders concerned – this is no repeat of what happened to the GOP in 2008 when Senator John McCain selected Alaskan Governor Sarah Palin as his running mate. Harris is also further left than Biden. There were times during her campaign that she fully backed Medicare For All, and there were times when her own healthcare plans crept further to the center of the aisle. Harris was found to be the most liberal Senator in 2019, but that was a further jump when compared to her previous years in office. Harris is consistently liberal, not a figure of "the radical left," as the Trump campaign is claiming. In fact, there are serious inconsistencies in the messaging of the Harris attacks – which can work in favor of Biden and Harris. The right appears to be struggling to pin down a strategy, as they call her both a problem for progressives and the picture of radicalism. President Trump immediately jumped to barely coded racist and sexist language about their campaign and spreading racist conspiracy theories. Meanwhile, many other Conservatives have been trying to unfairly invalidate Harris' Black identity. This is a dizzying tactic, and the only point of consistency appears to be racism and sexist slander.
Picture Kamala Harris debating Mike Pence. The image of Harris and Pence on the stage together has lots of people feeling confident in the selection. The Kaine vs. Pence debate was very standard and didn't garner too much attention outside of those who are politically active. While Pence may be saying that he "can't wait" to face Harris, there's a very good chance that if the debate happens it will likely provide a boost for the Democrats, as it's not easy to nab screen time during a pandemic (that also applies to Maya Rudolph's Saturday Night Live provision of TV time for Harris).
In "You Take the High Road and I'll Take the Low Road? The Interplay of Attack Strategies and Tactics in Presidential Campaigns," The Journal of Politics volume 65, Lee Sigelman and Emmett H. Buell Jr wrote, "The vice-presidential candidate can be deployed as a sniper, tasked to keep the opponents pinned down and on the defensive." Harris has a great deal of tactical skill as a prosecutor and will be able to play this role when necessary. Biden himself commented this about her in his remarks welcoming her to the campaign, saying, "She's tough."
Where Harris Hurts
Harris' record is full of deep flaws that leave many constituents feeling betrayed. Harris was the District Attorney General (A.G.) of San Francisco from 2004 to 2011, then California's A.G. from 2011 to 2017. While Harris had very successful initiatives and liberal stances during this time, there are many programs and policies that did serious harm. California uses prison labor a lot. Inmates fight wildfires for $2 per day, and according to a study from Berkeley, generate $150 million in direct sales for California. Supreme Court and federal judge ruling demanded that California's prison population was to be reduced, but Harris' office worked to push back against this, for fear of damaging the state's production. Harris stated that she was "shocked" upon reading this in an article, saying she wanted to check for accuracy, "I was very troubled by what I read. I just need to find out what did we actually say in court." Harris was very strongly against marijuana use, eventually softening on medicinal and federal legalization, but not recreational usage. Harris went on the Breakfast Club and talked about her past personal marijuana use, which annoyed people, considering her political stance. Harris now fully supports legalization. Harris passed truancy laws that disproportionately impacted poor communities, as fines and court time could reach up to $2,500 and parents were jailed outside of her county. Harris said, "If you fail in your responsibility to your kids, we are going to work to make sure you face the full force and consequences of the law." In a New York Times op-ed, the former director of the Loyola Law School Project for the Innocent in Los Angeles, Lara Bazelon, stated that Harris "fought tooth and nail to uphold wrongful convictions that had been secured through official misconduct that included evidence tampering, false testimony and the suppression of crucial information by prosecutors." Donald Trump also previously donated to Harris' campaigns, which some have said signals her ties to big business.  The stock market saw surges after the announcement that Harris would be on the ticket, but that was to be expected, if the candidate selected wasn't Elizabeth Warren or other progressive picks, as some corporations feared.
All of Harris' record must be looked at in context and closely, but many voters on the left and right are more than prepared to bring it up, making it very normal to hear, "She's a cop." That's not particularly helpful for Biden, who has to face his own record on similar issues.
Activists have pointed out that in a time of international reckoning with the criminal justice system in the United States, a candidate who was already a proponent of mass incarceration, selected a running mate who called herself "the top cop." As with her political ideology, the memories of her time as California's Attorney General (AG) and San Francisco AG have situation-dependent, when it comes to the way Harris frames it. However, as Angela Davis recently said, "It's a feminist approach to be able to work with those contradictions," so Harris' record may not be a crushing blow.
Harris didn't run a fabulous campaign. Harris was the third candidate to formally announce her candidacy, but she was one of the first candidates to drop out. She had surges and moments of record-breaking stardom, but her campaign couldn't survive. She was offering the Obama-era friendship approach that similarly sunk the Booker campaign, this was paired with her along with her unfavorable record, overcrowded field and the fact that her policy was often seen as shaky. Frankly, Biden didn't run a great campaign either. There were moments where he was fully counted out. Biden had many party favorites helping him and excellent staffers, but he came in poor places until South Carolina where he proves that he had the ability to persuade the older Black electorate, which he repeatedly touted. Neither Biden nor Harris was particularly popular with young or Progressive voters. Harris' campaign support base consisted of 60% women and 70% white, which was very similar to Biden's at the time. Harris pulled more middle-aged voters than Biden, who had more voters over the age of 50. Harris also had more educated voters than Biden, but many of them shifted camp after Biden's status as the presumptive nominee was secured. Harris' support group doesn't outright provide a new voting pool to the Biden campaign.
Biden and Harrison have serious work to do when it comes to winning over Progressive and younger voters. Especially as they seem unwilling to shift their stances on topics like breaking up big tech, and they have to turn heads away from the lasting effects of their past choices.