Are you vegan and struggling to find new foods to add a bit of variety and pizzazz to your diet? With the warm summer days here, now is the perfect time for vegans to be creative in the kitchen. From tasty proteins that will fill you up, healthy dairy replacements, and delicious treats – plenty of delicious food items are available so that all vegans can eat well! This post will introduce you to some fantastic vegan-friendly dishes and products so that this summer can be flavorful. So let's get cooking!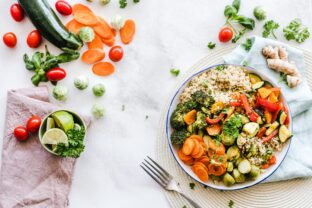 Here Are Six Must-Try Food Items For Vegans This Summer
1. Watermelon Salad
Watermelon salad is a perfect addition to your summer menu, especially if you are a vegan. This light and refreshing dish is a delicious combination of juicy watermelon, crisp cucumber, sweet red onion, and refreshing mint leaves, all dressed in a zesty lime vinaigrette. 
Not only is watermelon salad packed with flavor, but it is an excellent source of hydration during the hot summer months. It is easy to make and takes only a few minutes to prepare, making it a perfect option for those busy days when you want a quick and healthy meal. Incorporating THC Gummies can make the salad tastier. So, try this tasty and nutrient-packed salad, and your taste buds will thank you later.
2. Tofu Tacos
If you want new vegan dishes to try this summer, look no further than tofu tacos! Made with seasoned and crumbled tofu, these delicious tacos are a flavorful alternative to traditional meat tacos. Top them with your favorite veggies and salsa for a refreshing and nutritious meal for a summer evening. Whether you're a long-time vegan or just looking to try something new, tofu tacos will surely be a hit with your taste buds. Give them a try and experience the ultimate vegan taco sensation!
3. Grilled Vegetables
As a vegan, finding new and exciting recipes can be a challenge. Grilled vegetables offer a simple and delicious solution for a summer meal. The smoky flavor from the grill enhances the natural sweetness of the vegetables. From zucchini to bell peppers, there are endless options to choose from. 
Grilled vegetables can be eaten as a main dish or as a side to complement your favorite protein. Grilling veggies is a great way to get your friends and family involved in the cooking process. So fire up your grill this summer and try some tasty vegetables!
4. Vegan Burgers
As the temperatures continue to rise, many people find new and fun ways to enjoy their favorite foods. Vegans specifically may find themselves limited in options, but fear not! The vegan burger is here to save the day. These plant-based patties offer a delicious and satisfying alternative to traditional burgers. 
Packed with flavorful herbs and spices and topped with all the classic burger fixings, a vegan burger will impress even the most dedicated meat-eater. So, try the vegan burger this summer, whether you've been a vegan or just looking to switch things up. 
5. Rainbow Smoothie Bowl
Vegans have a new treat this summer – the Rainbow Smoothie Bowl. This colorful dish is visually stunning and a delicious and healthy choice. Filled with fresh fruit such as bananas, raspberries, mangoes, and blueberries, the Rainbow Smoothie Bowl is a refreshing and nutritious meal option. 
Topped off with coconut flakes, granola, and a drizzle of honey or agave, this bowl is perfect for breakfast, lunch, or even a midday snack. Try the Rainbow Smoothie Bowl and bring some sunshine into your diet this summer!
6. Vegan Ice Cream
As the summer heat approaches, Vegans may feel like missing out on the classic pleasure of indulging in ice cream. Fortunately, vegan ice cream options are now widely available and offer a delicious alternative free from animal products. It is made from coconut milk, almond milk, and cashews. 
Vegan ice cream is a creamy and satisfying treat perfect for hot days. With various flavors ranging from classic vanilla to inventive options like matcha green tea, there is something for everyone to enjoy. Try vegan ice cream this summer and discover a new favorite treat! You must also know about other vegan items that are worth trying.
Why Vegan Food Is The Best Choice?
When it comes to decisions about their diet, a rising number of people are selecting vegan-friendly options. Vegan food is the essential choice for anyone who wants to impact the environment, reduce the amount of animal suffering, and promote sustainable farming practices. There are many reasons why vegan food is the best choice. It's not just because of the positive effects on one's health, although those are a bonus. 
The term "vegan food" does not simply refer to salads and tofu; instead, a great deal of vegan cuisine consists of tasty, robust, and abundant nutrients. You are not only helping your body out by adopting a plant-based diet, but you are also making a conscientious decision to lessen the impact you have on the environment and to lend your support to a more ethical food system. Therefore, if you are seeking a way to make a positive effect through the decisions you make regarding your diet, consider being vegan.
Conclusion:
Exploring the delectable possibilities the vegan diet can offer during this summer season has been an exciting journey. We can all agree that regardless of your dietary preferences, there is something for everyone: from creamy ice creams and mouth-watering tacos to savory burgers and tasty stir-fry creations. Eating vegan does not have to be tedious or deprive you of delicious food. Whether you are a seasoned vegan or trying it out for the first time, these top 6 vegan-friendly food items will tantalize your taste buds this summer, allowing you to savor the unforgettable flavors that nature has provided us with. These six food items are just a few delicious and satisfying vegan options this summer. Whether you're looking for a refreshing salad, savory meal, or sweet treat, there's something for every taste bud. So put on those disposable gloves and start prepping those vegetables – let's get cooking!