As of right now, there are nationwide protests being held all across India, Internet access has been revoked in a lot of places, including the capital of India – New Delhi, and gathering of large crowds has been banned in a number of states. Even so, hundreds of thousands of people have thronged the streets of India to peacefully protest against what is called the Citizenship Amendment Bill (CAB), which was passed by the government of India on December 11, 2019 and has now officially become an Act.
So what is Citizenship Amendment Act (CAA)?
Basically, it offers amnesty to non-Muslim illegal immigrants (Hindu, Christian, Sikh, Buddhist and Zoroastrian communities) from Pakistan, Bangladesh and Afghanistan, provided they have been in India since before December 31, 2014. An illegal migrant is defined as people who either entered the country without proper documents, or stayed on beyond the permitted time. In 2015 the government made changes to the passport and foreigner's acts to allow non-Muslim refugees from these countries to stay back in India even if they entered the country without valid papers.
Simple, right? Illegal immigrants being granted citizenship is supposed to be a good thing, so why is India protesting against it?
The reason this Act has caused unrest among the citizens of the country is because it excludes Muslims from this narrative. Leading opposition parties in India have expressed their distress saying that the law is discriminatory against Muslims, who constitute 15% of India's population. What does the government have to say about this? They have clarified that Pakistan, Afghanistan and Bangaldesh are Islamic republics where Muslims are in majority hence they cannot be treated as persecuted minorities. Home Minister Amit Shah said on Wednesday that the Bill is not anti-Muslim as it does not take away the citizenship of any Indian Muslim and and only seeks to give the same to persecuted minorities of three neighbouring countries. According to him, the Bill does not snatch citizenship of Muslims and there is no need for them to panic.
However, the logic is not consistent – the bill does not protect all religious minorities, nor does it apply to all neighbours. Some Muslim sects face discrimination in Pakistan, Rohingya Muslims and Hindus face persecution in Myanmar, and Hindu and Christian Tamils in Sri Lanka. Another very important argument raised by the critics is that the CAA is a direct violation of India's constitution, which clearly states India is a secular nation. This means that India does not differentiate or discriminate between citizens on the basis of faith – which this Act appears to be doing. It also goes against Article 14 of the constitution –  the Right to Equality. And opposition parties have strongly opposed the bill, claiming India doesn't offer citizenship on the basis of religion (secular country).
But that is not all, this Bill has caused unrest among the North Eastern states of India, who fear that granting citizenship to foreign refugees will undermine the ethnic communities living in these regions and that it will disturb the region's demography and further burden resources and decrease employment opportunities for indigenous people. However, the government has indicated that there will be a compromise on the same.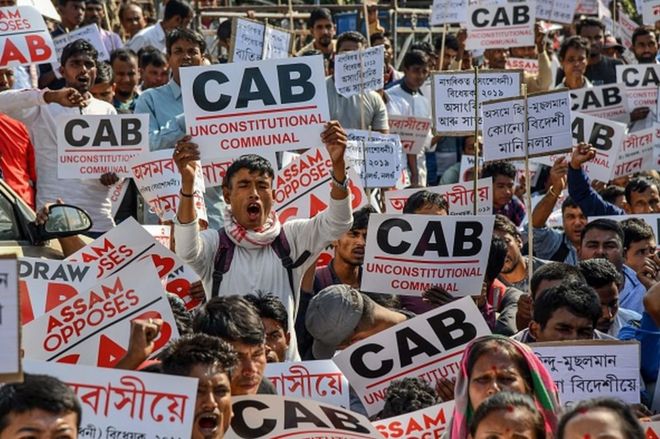 The Citizenship Amendment Act alone seems harmless, but combine that with the National Register of Citizens (NRC), and you can see the actual picture.
So what is the NRC? And how does that tie in with this Act?
NRC is a citizenship test that was first implemented in Assam. It requires every person to provide documentation going back generations to prove his/her citizenship, failing which they would be declared "illegal migrants" and put in detention centres. Many rural citizens didn't have it and it was especially hard for trans people. In the end, nearly 20 lakh people were excluded from the register in Assam and most of them turned out to be Hindus. This is where the CAA comes in. Hindus that were excluded from this list hope to be made 'citizens' again through CAA. But this Act excludes Muslims, and so the Muslims who were not in the NRC will become stateless and will have nowhere to go. Basically, this completely singles out Muslims. If there is a nationwide NRC, millions of people will face the challenge of producing the relevant documents, which will result in them failing the test – especially the poor.
In border states like West Bengal and Assam, Hindus may be spared as they can claim to originally. be from Bangladesh. This will change the demographics for the ruling party in key states. While in the rest of India, Hindus as well as Muslims (especially the poor) could have their nationality stripped off them – even if they have lived in the country their entire life. With the CAA already in place, the two (CAA and NRC) together would mean that only the Muslims would be filtered out. Union Home Minister Amit Shah has made link between the CAA and NRC clear more than once from public platforms, and together, they can pose a severe threat to the development and economy of India. This is why Indians are protesting.
Mumbai, Kolkata, Delhi, Allahabad

Woah, this is people's unity against the divisive & unconstitutional NRC-CAA!

Ashfaqullah Khan and Ram Prasad Bismil's legacy is alive and kicking! #IndiaAgainstCAA pic.twitter.com/B9vwSNwLlc

— Umar Khalid (@UmarKhalidJNU) December 19, 2019
All of this was pretty distressing for the Indians as it is, and they had been voicing their opinions on social media platforms. But what tipped them over the edge was an incident that happened on Sunday, when peaceful protests at Jamia Millia Islamia University in New Delhi turned violent. Police and paramilitary forces stormed the campus, firing tear gas inside classrooms and the library. In some cases, shots were fired too. These were students who didn't even take part in the protests. And those who were protesting, were doing so peacefully, using their voices and signs to express their displeasure about the Act.
Videos posted to social media show security personnel beating students with batons, female students intervening to try and stop police beating male counterparts and others trying desperately to escape the university's smoke filled library. Over 100 students were injured that day, which triggered a nationwide protest led by students at various universities across the country as a show of solidarity against police brutality with the students of Jamia.
That was the catalyst. The moment the state attacked the students – the future – of the country, alarm bells went off all across the nation as the very essence of their democracy was threatened. Social media went berserk in support of the students, calling the regime fascist and comparing it to Nazi Germany, while Prime Minister Narendra Modi, who had pushed for the contentious new citizenship law at the heart of the unrest for years, took to Twitter on Monday to appeal for "peace, unity and brotherhood."
I want to unequivocally assure my fellow Indians that CAA does not affect any citizen of India of any religion. No Indian has anything to worry regarding this Act. This Act is only for those who have faced years of persecution outside and have no other place to go except India.

— Narendra Modi (@narendramodi) December 16, 2019
But this nothing to stop the tide that was inevitably coming. The youth of the country had finally had enough and on December 19, 2019, the entire nation gathered en masse to peacefully protest against the CAA and NRC. People stormed the streets of Mumbai, Delhi, Lucknow, Kolkata, Bengaluru and many more with only their voice and some hilarious signs in hand, protesting to stand up for the voices that could not be heard. There were clampdowns on media and newspapers. Section 144 of the Criminal Penal Code, which prohibits an assembly of more than four people in an area, has been imposed across Karnataka and Uttar Pradesh, telecom services like Airtel and Vodafone were ordered to suspend their services in many parts of India, including the capital of New Delhi.
In Mumbai, quite ironically, the protests were held in August Krant Maidan, which is the exact same place where the Quit India Movement had kicked off all those years ago when India was under the control of the British.
Thousands of people protest against the #CitizenshipAmmendmentAct in August Kranti Maidan. #CAAProtests #Mumbai pic.twitter.com/bgW5vwNYHC

— TOI Mumbai (@TOIMumbai) December 19, 2019
Several protesters were detained as they still showed up despite the imposition of Section 144, access to protest locations were denied in some places by the police, yet the citizens marched on and in the end, were able to protest in peace. One person was killed in Lucknow and two in Mangaluru as the protests got violent, but the protests were largely peaceful. People who couldn't attend these marches, took to social media with #IndiaAgainstCAA and #Section144 to voice their solidarity. And it resulted in beautiful scenes such as this:
Make this viral. pic.twitter.com/binxgV6HuC

— Gabbbar (@GabbbarSingh) December 19, 2019
This is what is happening in India right now, and there is still a lot more to come as this is just the beginning of a long battle that Indian citizens would face to try to abolish the CAA and NRC. This is being dubbed as the biggest threat to the democracy yet, and its not hard to understand why. India is a secular nation, with a constitution like no other. It is built on the foundation that everyone is welcome here, irrespective of your caste, creed or religion. So why start now? The students are fed up and are asking questions that the opposition has been too afraid to ask, with the entire nation rallying behind them. It is now up to the Modi government to answer.
Featured image: Mashable